5 Ups And 8 Downs From Last Night's WWE Raw (Nov 4)
Maybe WWE's heart and fire are still stuck in Saudi Arabia.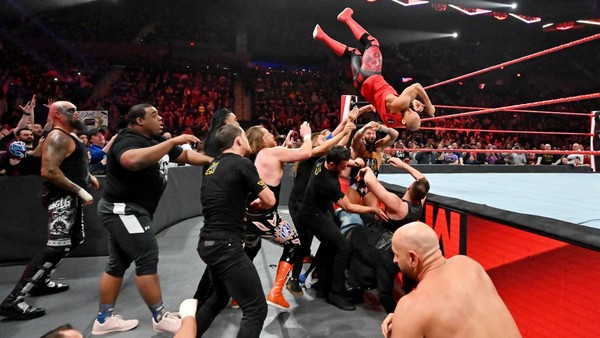 WWE has not had a good weekend.
Crown Jewel was a marked improvement over previous Saudi Arabia PPVs, crowning a new Universal Champion and playing to a hot crowd. And then the much-covered travel debacle derailed SmackDown. WWE managed to make lemonade of that situation by staging an NXT takeover (get it?) of the blue brand, so points there.
But then the Saudi Arabia story took over, with reports flying about disgruntled talent, WWE fabricating stories, a spat between Vince McMahon and the Saudi government, and other assorted problems.
WWE very much needed to turn the corner with a strong Raw that refocused and re-energized everyone, both talent and fans alike. What we got was a Raw that limped along for three hours with average wrestling, a few good segments and an overall skippable episode.
Becky Lynch sparring with Shayna Baszler was a high point, and Seth Rollins managed to rebound decently from his disastrous feud with Bray Wyatt. But beyond a handful of nice bits, you would be forgiven for fast-forwarding a lot of this week's flat edition.
Let's hope WWE finds a way to "shock the system," because not even having the Undisputed Era on Raw did the trick.
With that said, let's get to it…
Scott Carlson
Scott is a former journalist and longtime wrestling fan who was smart enough to abandon WCW during the Monday Night Wars the same time as the Radicalz. He fortunately became a fan in time for WrestleMania III and came back as a fan after a long high school hiatus before WM XIV. Monday nights in the Carlson household are reserved for viewing Raw -- for better or worse.
See more from Scott