5 Wrestling Ring Rope Wreckages
Not that kind of rope break.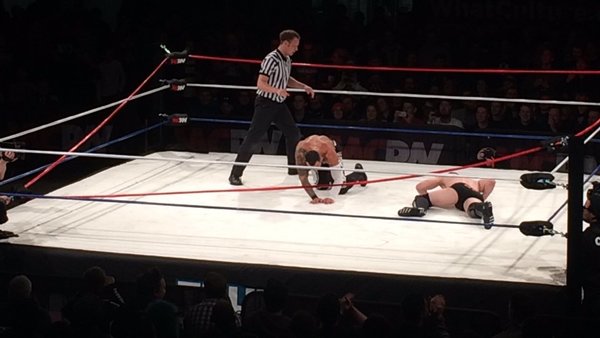 On the 12 June 2003 episode of SmackDown, Brock Lesnar superplexed The Big Show. The ring imploded upon impact in what has become an iconic image, adorned on highlight reels for well over a decade. Big Show kept up the work for almost as long, before finally exposing the ruse on a 2015 appearance on Chris Jericho's Talk Is Jericho podcast.
"We did a spot right before we broke the ring where we're both down and they shoot a real close-up of both of us selling. Well in that time, [WWE Stunt Coordinator] Ellis [Edwards] had airbags under the ring. So they had lifted the ring a couple inches. So now, when I'm standing on that top corner, that ring is like standing on marbles, because it's moving. Of course now I've got my fat a** up in the air, 500 pounds on a not very stable surface. So then the ring broke."
No sh*t. It was obviously choreographed.
It was a well WWE have dipped into fairly regularly during and after the Attitude Era in yet another trope borrowed from ECW. It was in the revolutionary promotion that Bam Bam Bigelow drilled Taz through the canvas at Living Dangerously 1998.
Of course, this being pro wrestling, an industry so ridiculous that it can barely hold itself together at the seams, such collapses often veer into shoot territory...
5. Chris Jericho & Christian Vs. Booker T & Goldust (WWE No Mercy 2002)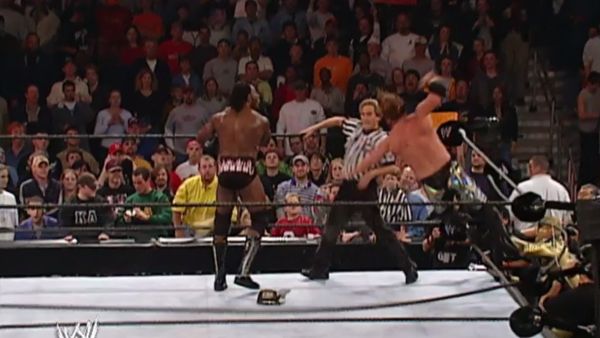 Chris Jericho was ordered to wear lifts in his boots during the early years of his WWE career by the achondroplasiaphobic Vince McMahon. This might explain why he showed the ring rope no mercy on 20 October.
His match with Christian, opposite Booker T and Goldust, spiralled into planned chaos at the seven minute mark. Christian, fearing the loss of their World Tag Team Championships, attempted to smash Booker with the gold. Booker then suckered (sorry) him out of the ring before Jericho attempted to take advantage by performing his trademark springboard dropkick.
It was at this moment that the match degenerated into unplanned chaos; the second rope gave way upon impact, and Jericho fell flat on his arse.
Mercifully for the four men, the rope break occurred so deep into the match that there was little need to work around it. At least it wasn't the bottom rope which gave way; before he quickly drilled Goldust with the match-winning top rope moonsault (it's just as well he was athletic enough to scramble up there) Jericho had to plant his foot on the bottom rope for a near-fall break.