6 Ups & 3 Downs From AEW Dynamite (15 Mar - Review)
The Elite bring back the real best story in wrestling on last night's AEW Dynamite.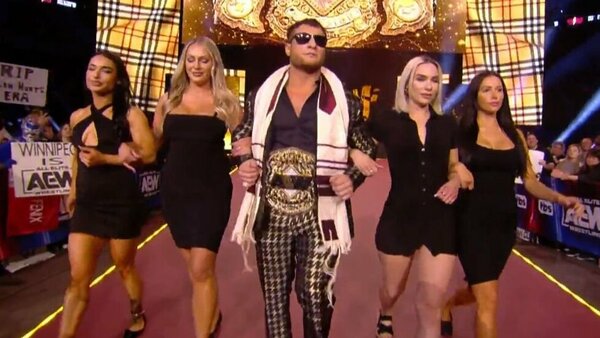 Last week's Dynamite was uneven, yet again, but this week's edition promised a lot.
Emanating from Winnipeg, Manitoba Canada, the very best version of the three-way AEW Trios title match promised to be one of the loudest and most exhilarating TV matches in Dynamite history.
Two hometown legends in the same ring. The rest of the insanely talented men sharing it. A genre of match that generates a frenzied reaction most of the time - only with the excitement multiplied via the addition of a third team. The only factor undermining the excitement was the need for deflating commercial breaks. The escalating excitement of a trios match suffers the most from the "slow down and wait for the ads to finish" picture-in-picture deal.
Great wrestling TV isn't about match quality; it at its best is a trifecta of in-ring quality, angles and promos - the second point of which also promised brilliance with MJF's re-Bar Mitzvah. The promotional materials alone indicated that this angle would be piss-funny, and consider this: MJF had obviously saved those images in anticipation of something big. He didn't waste them as a young heel on the rise, even though he would have gone viral with them. One of the best long-term storytellers in the business, it seemed, had picked his spot.
Tony Khan echoed this optimistic level of hype on Twitter, expecting one of the best shows of the year.
Was it...?