6 Ups & 3 Downs From AEW Dynamite (7 June - Review)
Orange Cassidy is the highlight of Dynamite yet again. Perhaps he should be loaned to Collision...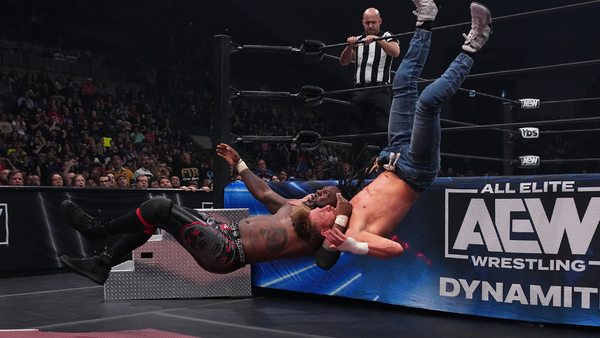 Last year's Forbidden Door build was struck by piss-poor luck, but the actual plans weren't great - or at least didn't make the show feel like a unique collaboration between All Elite Wrestling and New Japan Pro Wrestling.
Before the match was abandoned through injury, Bryan Danielson revealed that Zack Sabre, Jr had accepted the offer of a bounty made by Chris Jericho. The idea was to use the ultimate technical dream match as a means of building the Jericho Appreciation Society Vs. Blackpool Combat Club Blood & Guts match with a trademark AEW device. Firstly, that was unnecessary; the match should have sold itself.
The person whom the Best Technical Wrestler Award was named after versus the man who nearly equalled him in his own category?
That in itself is a great story, but the pitched build was lopsided in the favour of an ongoing AEW storyline. The same issue affected the build for Jon Moxley Vs. Hiroshi Tanahashi.
"Story", "storyline".
You'll read and resent those two words a lot over the next couple of weeks, but if there's ever a time to book the most simple story there is - who is the superior pro wrestler? - it's at a time when some of the best wrestlers of all time, intersecting their physical and psychological prime, are set to do battle.
Did AEW muddy this simple, glorious premise on the first step towards the PPV...?
They didn't do too much with the build at all; the show felt like business as usual, for better and worse...