6 Ups & 4 Downs From WWE SmackDown (Dec 2)
Ricochet wins the World Cup; WWE puts on several classics; Bray Wyatt treads water.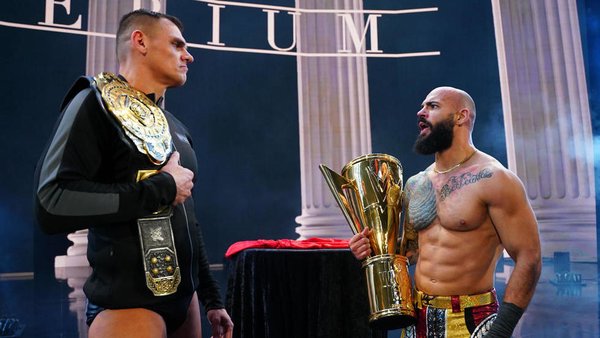 Be still your beating heart.
Yes, it's true - WWE just lined up Ricochet as GUNTHER's next Intercontinental Title challenger, and that match will take place in two weeks on SmackDown. If anyone out there needs a picture to illustrate something that wouldn't have happened under Vincent Kennedy McMahon, then feast thine eyes above.
This entire episode might not have occurred under McMahon's watchful gaze, being perfectly honest. Triple H's team don't get everything right, but they do know that putting wonderful workers together in-ring typically reaps high quality rewards. On Friday, fans tuning in were treated to no less than three epic bouts.
WWE also booked a welcome return in the women's division, repackaged (sort of) a fellow female star, and started Karrion Kross' next feud. Yeah, about that. Sadly, Karrion and Scarlett revealing their next target was one of SmackDown's biggest negatives. Why? Well, the whole thing feels terribly random, and WWE would be wise to finish their dinner elsewhere before launching into a brand new story.
As the 'Ups' and 'Downs' counts reveal though, this was a good episode. Here's all the good and bad from it!