6 Ups & 4 Downs From WWE WrestleMania IX
Quick Wins.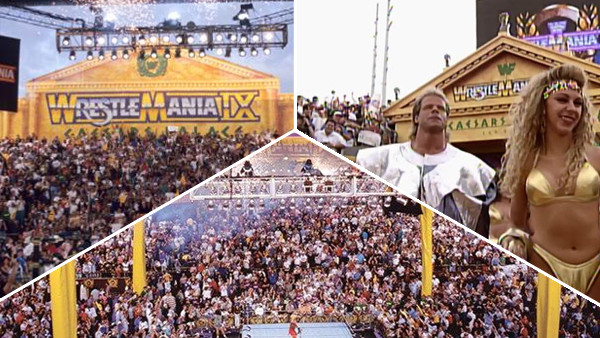 The listed attendance according to Wikipedia for WrestleMania IX is a not-unimpressive 16,891. Ignoring the potentially unreliable sources and assuming that figure is real, consider that a huge pat on Vince McMahon's back for packing that many folk into a Las Vegas car park.
Yes, 45,276 less people turned up than the prior year, but to paraphrase the legend that entered this show backwards on a camel, comparing star power between the two shows was like comparing ice cream and horse manure.
In an effort to mask the onset of the lean years, McMahon decked out his 'Grandest Stage' in the pageantry of a Roman Coliseum and, remarkably, it sort of worked.
Stars from 1992's 'Show Of Shows' had disappeared in their droves by August's SummerSlam. Hulk Hogan, Sid Justice, Roddy Piper and Jake 'The Snake' Roberts were nowhere near the ring during the mammoth Wembley card and even further away as 1993 dawned.
One of those names returned in rather infamous fashion on this card, but much, much more on him later...
(Other WrestleMania Ups & Downs? We got 'em: I, 2, III, IV, V, VI, VII, VIII)