6 Ups & 7 Downs From WWE Raw (April 19)
Raw rebounds but features possessed doll, distraction finish, cowardly faces.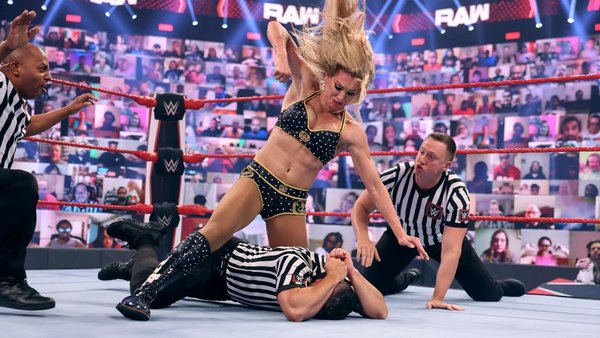 After a disastrous Raw after WrestleMania 37 last week, it was going to be really interesting to see how WWE reacted this week. Would they right the ship? Would they overcorrect? Or would they steam along with another subpar showing?
The answer: Raw rebounded nicely, providing a good mix of in-ring action and some developing storylines. But the program also continued some dumb mistakes WWE insists on making regularly. It's just hard to give a pass when the show has an evil doll, babyfaces who run away, an idiot stoner, and more distraction finishes.
But Raw also gave us a developing Raw Women's Championship angle that could grow into something that could carry for the next 2-3 months if done right. It saw Damian Priest recover from his embarrassing loss last week to get his revenge, even without a bunny in his corner. And it saw the last vestiges of RETRIBUTION finally get erased from TV.
Whether this was an actual course correction by WWE or just a one-off situation where the stars aligned remains to be seen, but the biggest gripe here is that a lot of the negatives are fixable. Yes, there are structural problems with Raw, but talented wrestlers are not one of those issues.
Let's get to it…