7 Best Ever NJPW Gaijin Wrestlers
Kings of Imports.
New Japan Pro Wrestling, Japan's number one professional wrestling outfit, has experienced a huge upswing in international popularity in recent years. Thanks to the English-friendly online streaming service New Japan World, Westerners the world over can keep up to date with the latest happenings and dive into archive content stretching all the way back to 1973!
Another reason for the increase in visibility and popularity is thanks to the efforts of recent gaijin (foreign) wrestlers, such as The Young Bucks, AJ Styles, Ricochet, Will Ospreay, and Kenny Omega. Indeed, NJPW is as open to hiring overseas wrestlers as ever before when in previous years there were typically very few spots available to those plying their trades beyond borders.
In years past everyone from Bruiser Brody and Eddie Guerrero to Brock Lesnar and Kurt Angle have performed in Korakuen Hall, Sumo Hall, and the Tokyo Dome for New Japan. Those are some of the most recognisable wrestlers ever, but do they rank in the very top tier of New Japan's gaijin crop?
We'll leave it to history to decide if the likes of AJ Styles and Omega should rank in all-time list. When looking at longevity, drawing power, match quality, and overall impact on the promotion, these seven gaijin are the ones their legacies need to compete against.
Feel free to dispute these in the comments section below!
7. Pegasus Kid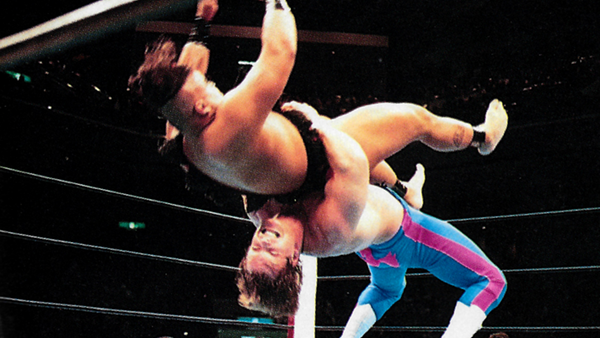 Chris Benoit made his New Japan debut as a fresh-faced 19-year-old, battling Masaharu Funaki to a time limit draw on 2 January 1987. Benoit (who was wrestling under his real name) had been training in the infamous NJPW dojo for the previous year, honing his craft while also doing menial tasks for veteran wrestlers. The training was tough, but Benoit was rewarded with a steady stream of bookings.
Following his rookie year, Benoit went on an excursion (as was customary for New Japan's Young Lions) to gain more experience and build up his body for his eventual return. He reappeared in New Japan in 1990 as the masked 'Pegasus Kid', rival to fellow junior heavyweight standout Jushin Liger. Benoit and Liger would battle one another for the rest of the year, with Benoit as Pegasus winning the IWGP Junior Heavyweight Championship on 19 August (he lost it back to Liger on 1 November).
Benoit quickly solidified his reputation as the premier powerhouse of the junior heavyweight scene, wowing audiences with his vicious powebombs, clotheslines and Dynamite Kid-inspired snap suplexes and diving headbutts. More success followed as Benoit became a New Japan regular. He won the Best of the Super Juniors tournament in 1993 and then the first ever Super J Cup in '94, besting El Samurai and The Great Sasuke in superlative matches.
New Japan's roster in the early-mid '90s was truly stacked, but Benoit stood out thanks to his ability to have the best match on any given show, regardless of his opponent. In 1995, Benoit (along with fellow New Japan gaijin Dean Malenko and Eddie 'Black Tiger' Guerrero) was persuaded by New Japan to sign with WCW, with whom they had a working relationship.
From that point on his Japanese appearances became more sporadic, reduced to one or two tours per year as he focused on his career in North America. His final New Japan Pro Wrestling match was a loss to Hiroyoshi Tenzan at the Tokyo Dome on 4 January 2000. Had Benoit neglected to sign with WWE after walking out of WCW around the same time, he would have no doubt been offered the chance to do so - with a nice six-figure salary to boot.
He didn't, and the next time he wrestled in the Orient was as a WWE superstar. He was always given a rapturous reception upon his return, mind, as the Japanese fans remembered his impeccable career in the '90s, from 'Dynamite Chris' to the 'Pegasus Kid' to 'Wild Pegasus' and back to simply Chris Benoit. Few could touch Benoit as far as in-ring performance is concerned, and his matches (particularly against Sasuke, Liger, Samurai, Black Tiger, and Koji Kanemoto) are well worth seeking out.