7 ECW Stars That Failed In WWE
Those guys Paul Heyman could make look a million dollars but Vince McMahon couldn't...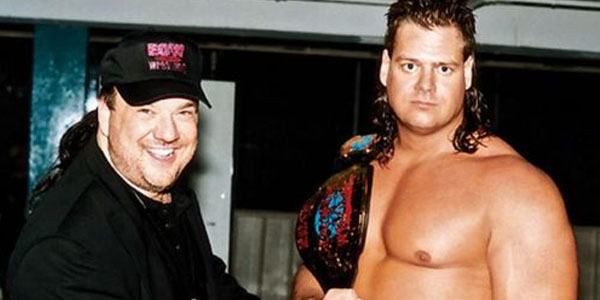 WWE.comA lot of successful WWE performers can trace their lineage through Paul Heyman's Extreme Championship Wrestling. Rob Van Dam became WWE Champion (and ECW Champion) in 2006. Tazz parlayed his wrestling character into a successful announcing career starting in 2002. The homicidal, genocidal, maniac that was Sabu played an important role in the re-launch of the ECW brand beginning with 2006's One Night Stand PPV (facing Rey Mysterio for his World Championship). To varying degrees, the ECW experience helped shape the careers of many former WWE World Champions such as Chris Jericho, Chris Benoit, Mick Foley, Eddie Guerrero and Steve Austin. However, there's the other group. Those are the many ECW performers whose experience in the WWE was far less thrilling. While these wrestlers have mostly been relegated more to footnotes of WWE history we'll take a moment to recall their time as superstars in the world's biggest pro-wrestling company. Here we commemorate the ECW competitors that failed in the WWE.
7. Raven (2000-2003)
Blessed with an apt wrestling mind, Scott Levy has performed for oodles of major companies from Continental Wrestling Association (Memphis), Pacific Northwest Wrestling (Portland), Global Wrestling Federation (Dallas), Smoky Mountain Wrestling, World Championship Wrestling, World Wrestling Federation, Extreme Championship Wrestling, World Wrestling Entertainment and Total Nonstop Action Wrestling. He's been a manager and commentator as Johnny Polo, a light-heavyweight wrestler as Scotty Flamingo and, most famously, the heavyweight troubled manipulator Raven. From 1993 to 1994, the arrogant Johnny Polo made his prescience known alongisde Adam Bomb and Tag Team Champions Quebeccars. After quitting WCW in 1999, Raven's second run with WWF began in September 2000 following a year-long return to his ECW roots (terms of his World Championship Wrestling release his prevented him from joining WWF). Raven's lasting legacy in WWE was his numerous battles over the Hardcore Championship and his role as the color commentator of Sunday Night Heat (and Excess). Frustrated with a lack of angles, Raven lobbied for his own storylines which he implemented on Sunday Night Heat. Raven was released from WWE in January 2003. In 2008, he sued WWE (alongside Chris Kanyon and Mike Sanders) allegeding that wrestler's status as "independent contractors" was essentially a farce and they should be given benefits and treatment like normal employees. The suit in Connecticut court was dismissed in March 2009.