7 Match Star Ratings For WWE Extreme Rules 2021
The Demon King Finn Bálor is dead, long live the King. By the looks of things, he's lost at sea...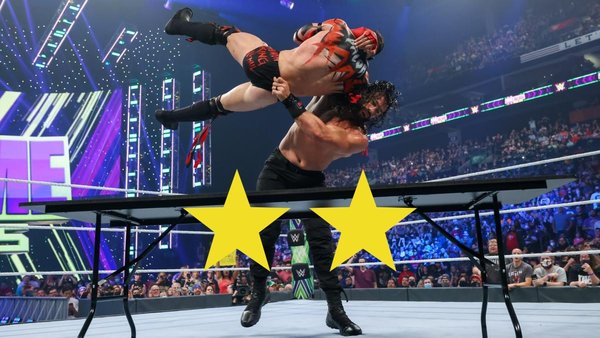 The road to Extreme Rules was fairly lacklustre and oddly unfocused.
Beyond the Roman Reigns character, any praise directed towards the WWE product throughout the build was reserved exclusively for Big E's Money In The Bank cash-in and the chemistry shared by RK-Bro. Of course, just one of these acts made it into the show, and in an unannounced capacity.
Carmella bragged about being hotter than Liv Morgan. Charlotte Flair buried almost a full year of creative by telling Alexa Bliss that she was less sh*tty and lame when she simply wrestled, the salient point behind which only brought into focus the less-than-ideal truth that so much of your time has been wasted.
The Usos and the Street Profits built their PPV match by wrestling a TV match that ended in disqualification because wrestling is still a carny ticket-selling racket in Vince McMahon's mind, despite the fact that he scored his highest-ever revenues without shifting a single one.
Damian Priest was challenged by two losers, but to be fair, there were two of them, reducing his chances of winning by a third, so sayeth Michael Cole, as if he were Scott Steiner. If only.
Becky Lynch beat up Bianca Belair in her hometown, and Roman Reigns lined up a more important match before his filler defence opposite, weirdly, the Demon Finn Bálor. This necessitated a creative finish.
It was creative, alright...
7. KICKOFF: Liv Morgan Vs. Carmella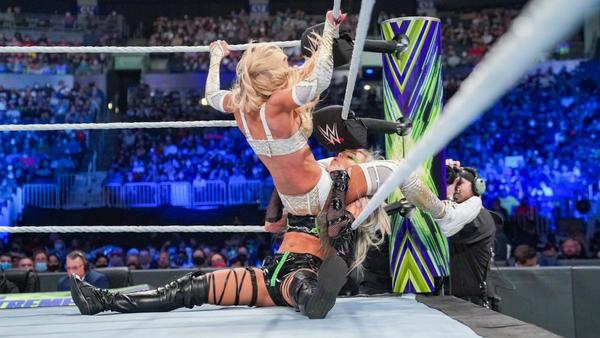 Despite the woefully retrograde premise - Carmella thinks she's hotter than Liv Morgan, so they had a match - this was really quite good. Carmella might be one of the more underrated wrestlers on the planet, a claim which is helped by her terrible appearances on television. Or, her career is almost ruined entirely by how sh*tty the creative is.
Depends on how you look at it!
In one fast, crisp sequence that kept the audience guessing, Morgan flew into a back elbow into the corner. Then, under the pretence that she actually despised her opponent, she did it again, and ate sh*t. The intent behind everything she did here was believable, even (especially) if it didn't come off in the story. The nuances to her work were well thought-out, as was the story in general. Carmella bragged about not making the same mistake, when she halted her own trajectory, but Morgan capitalised on her arrogance by striking her with a decent-looking shotgun dropkick.
Carmella's subsequent heat sequence was boring and very much laid out by an old white fella - "I'm hot, you're not," she said to Morgan before executing a suplex and the obligatory endless chinlock. Beyond that, the hatred was expressed with Morgan's vicious head-first curb stomp delivered after two wincing strikes to the head.
"Way better than the creative indicated" applies to virtually every WWE match ever, but was especially true here.
Star Rating: ★★★¼