7 Most Insane Things Happening In Wrestling Right Now (Aug 18)
There Won't Be Blood.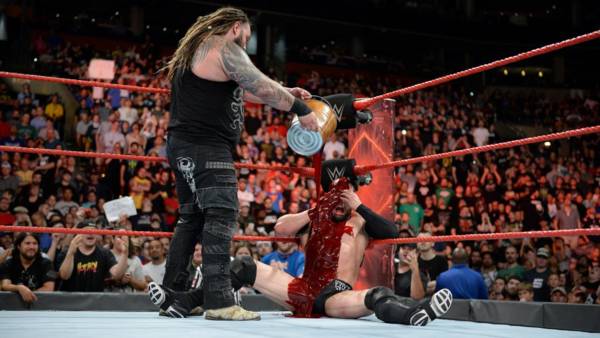 What's the dumbest thing Bray Wyatt has ever done onscreen, man? Ha, ha, ha.
The hologram business at Hell In A Cell 2014 was infamously naff because it all but confirmed that he had actual special powers - which still didn't enable him to win wrestle matches. Well, apart from against Dean Ambrose, but he doesn't count. He also stole the powers of thunder, lightning and fire from the Undertaker and Kane almost a year later...before losing them and to them at Survivor Series in just over ten minutes. That match clearly only took place as a case of "let's throw the spookiest guys we have at 'Taker to celebrate 25 years of him," and that's the problem. Wyatt is just supernatural fluff with no in-universe logic nor explanation. The problem with Bray Wyatt as a character is that nobody knows what he wants and he himself has no idea how to get it. He is more plot hole than man.
He claimed before WrestleMania 33 that Sister Abigail's ghost wasn't incinerated by Randy Orton. Her powers were now one with Bray's. Considering it took just 09:57 for Orton to RKO Wyatt out of Orlando, we were left to deduce that Abigail had all the wrestling acumen of Jenna Morasca.
Maybe he's been laughing the whole time because he's meant to be a joke. That would explain the events of Monday night.
7. The Return Of Katsuyori F*CKING SHIBATA
At NJPW Sakura Genesis, Katsuyori Shibata drilled Kazuchika Okada with a sickening, full-on headbutt in their IWGP Heavyweight Title match. It sounded like he'd dropped a watermelon on concrete. He suffered a subdural haematoma, as indicated by the grisly visual of blood trickling down, and had to crawl out of the ring en painful route to emergency brain surgery.
In the aftermath, Shibata experienced severely reduced mobility. One side of Shibata's body was said to be paralysed. He also experienced debilitating vision problems, walking into walls and fellow hospital patients. A return to the ring was (and still is) inconceivable; expectations for a full recovery were equally pessimistic. Until this weekend.
During the final night of the G1 Climax final, the piano intro of his theme rang out. After an eternal second of shock, the Sumo Hall faithful went nuts. The loud and sustained cacophony sent shivers down the spine. Everybody was on their feet. Many cried. He didn't just emerge from the curtain and walk under his own power; he walked with purpose. He adopted his trademark sitting ring pose, grabbed a microphone, and uttered the typically to-the-point declaration: "I am alive. That is all." The best part of all - not the pop, not the emotion, not the ceremonial bump - was the smile etched across his face. This wasn't the sickly grin he leered after delivering his über-stiff offence. He beamed at the reaction.
NJPW officials likely won't allow him to compete again - but that smile told an uplifting and incredible story of acceptance and gratitude.