7 Things You Should Know About WWE Royal Rumble 1998
1. Kane Set The Undertaker On Fire...In A Casket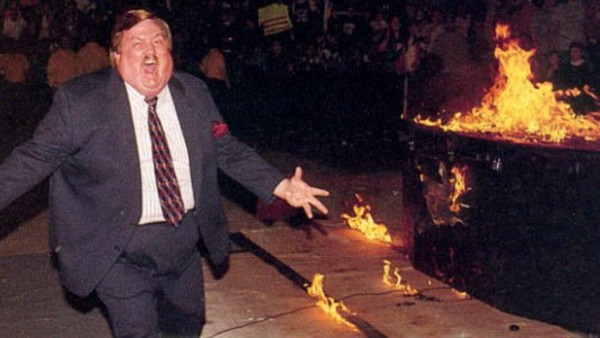 The Michaels/Undertaker WWE Title match was a casket match, so it was obvious that there would be some kind of interference. Shawn's DX friends Triple H and Chyna showed up to try to help him, but then Kane appeared. At this point in his career, Kane had only been in the storylines for three months. He attacked Undertaker at Badd Blood's Hell in a Cell match in October 1997 to cause Undertaker to lose to Michaels. However, in the build up to this match it appeared as though he was going to help Undertaker. The fans were happy when Kane showed up. They figured he would help Undertaker win the WWE Title. That didn't happen, though. Not even close. Kane attacked Undertaker, gave him a Chokeslam into the casket and that gave Michaels the cheap win to retain the WWE Title. To end the show, Kane moved the casket over towards the entrance. He lit it on fire with his storyline father Paul Bearer looking on and the show went off the air that way. I can remember the VHS version of the show had the post show scene where they opened the casket to find that Undertaker was gone. It was done to set up the first Undertaker vs. Kane match at WrestleMania 14. The Rumble match is typically what should go on last at any Rumble PPV, but in this case it was okay that Michaels/Undertaker finished the show just because of how spectacular the ending was. http://youtu.be/DNnZPLv8Mt4 This show was officially the start of the Attitude Era led by Steve Austin. There was no looking back from there.
Want to write about Paul Bearer and Royal Rumble 1998? Get started below...
Create Content and Get Paid
---
John Canton
John wrote at WhatCulture from December 2013 to December 2015. It was fun, but it's over for now. Follow him on Twitter @johnreport. You can also send an email to mrjohncanton@gmail.com with any questions or comments as well.
See more from John