7 Things You Should Know About WWE Royal Rumble 1999
Vince McMahon won the Royal Rumble? Yep. He sure did.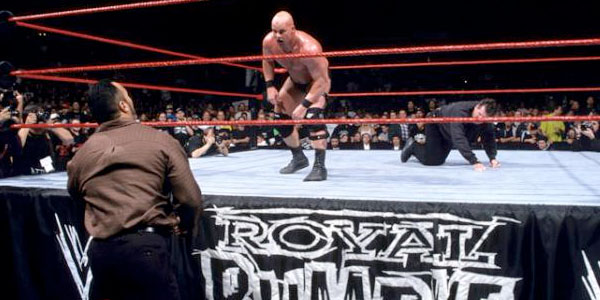 The 1999 Royal Rumble took place at a time when WWE was firmly in control of the "Monday Night War" with rival WCW Monday Nitro. Thanks to the emergence of Steve Austin as the top babyface in the business and WWE Chairman Vince McMahon as his chief rival, most wrestling fans were tuning in to see what was going to happen from week to week. Going into the Rumble match, the big story was that somebody would get $100,000 for eliminating Austin from the match. Austin won the Rumble match the previous two years, so most people expected him to win it again just because we all figured he would main event WrestleMania 15. WWE knew what was obvious, so they decided to swerve us. In the WWE Title picture, The Rock and Mankind had a number of matches together. Rock won the WWE Title at Survivor Series when he turned heel. On the first Raw of 1999 (taped a week earlier), Mankind won the WWE Title for the first time. They went into this matchup with an "I Quit" stipulation, which meant it would be very violent. The 12th Royal Rumble event took place in Anaheim, California on January 24, 1999. Here are the results from the show. 1. The Big Boss Man d. Road Dogg 2. Intercontinental Title: Ken Shamrock d. Billy Gunn to retain the title 3. European Title: X-Pac d. Gangrel to retain the title 4. Women's Title Strap Match: Sable d. Luna to retain the title 5. WWE Title "I Quit" Match: The Rock d. Mankind to win the title 6. Mr. Vince McMahon won the Royal Rumble Here are seven things you should know about the 1999 Royal Rumble.