7 Things You Should Know About WWE Royal Rumble 2002
The first Royal Rumble after the death of WCW.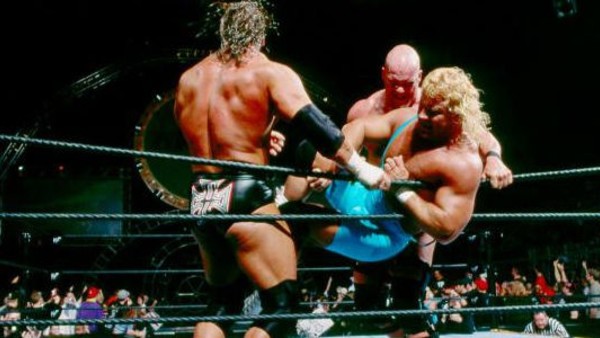 The 2002 Royal Rumble took place at a time when WWE had a really big roster due to all of the talent they acquired when they bought WWE in 2001. While they didn't choose to bring in all of their talent and a number of big names came in down the road, there were still several WCW stars that were playing major roles in WWE. With the Invasion storyline finished after settling things at Survivor Series 2001, WWE had to move forward with a new direction. That led to the WWE return of Ric Flair, who left the company for WCW eight years old. He was put in the role of an owner that was battling with Vince McMahon. It got so heated that they ended up having a match at this show. A few months after this show, the company changed their name from the World Wrestling Federation to World Wrestling Entertainment due to ongoing legal battles with the World Wildlife Fund. That was a big change, but so was the draft lottery that took place after WrestleMania as well. As usual, the Rumble match was the focal point of the show with Triple H going into it as the heavy favorite because he returned from a torn quad injury a few weeks before this. The 15th Royal Rumble event took place in Atlanta, Georgia on January 20, 2002. Here are the results from the show. 1. Tag Team Titles: Spike Dudley & Tazz d. The Dudley Boyz (Bubba Ray & D-Von Dudley) to retain the titles 2. Intercontinental Title: William Regal d. Edge to win the title 3. Women's Title: Trish Stratus d. Jazz (w/Jacqueline as referee) to retain the title 4. Street Fight: Ric Flair d. Vince McMahon 5. WWE Undisputed Title: Chris Jericho d. The Rock to retain the title 6. Triple H won the Royal Rumble match Here are seven things you should know about the 2002 Royal Rumble.