7 Ups & 1 Down From AEW Revolution 2023 (Review)
5. The Elite Do What The Elite Do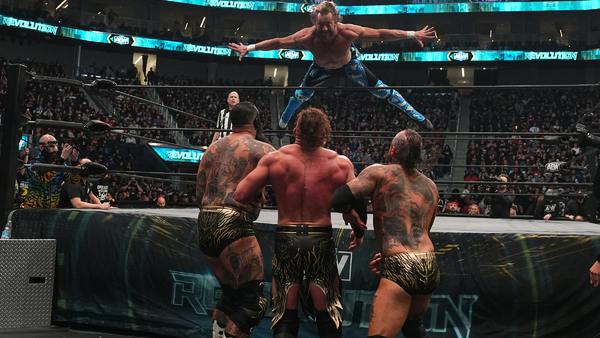 In a shocker of a result, the House of Black dethroned Trios champions the Elite.
In an altogether less surprising development, the match was out-of-this-world phenomenal.
It was phenomenal immediately and only escalated its breathtaking exhilaration. Kenny Omega and Malakai Black worked a martial arts-inspired standoff that was just stupidly great. The timing was unbelievable; the intent behind every attempted strike was so full-on that, were it all not so perfectly-timed, one of them may have suffered a head injury. But it was all timed perfectly. Everything was.
What the Elite do - and this was outrageous even by their standards - is magic. The ambition should be impossible. They simultaneously do so much in these absolute barnburners and generate the feeling that you never want it to end. In one of the most famous trios wars ever, Do Fixer and Blood Generation worked a match at ROH Supercard of Honor 2006 so fantastic that the fans, audibly, begged them not to go to the finish. Somehow, the Elite have bottled that magic, and sell the potion time and time again.
As ever, an incredible amount of thought went into it. Brody King was depicted as the Final Boss, and to put this thread over, he kicked out of an awesome Nick Jackson 450 at one. In another great detail, as the match reached a breathless, all-action crescendo, Kenny Omega had to join the superkick party just to make him wobble. The Young Bucks' signature tandem move was enough to send Black and Buddy Matthews to the outside, but King, who has never looked more like a total beast, was treated with that bit more reverence. Omega couldn't even hit him with the snap dragon, let alone the One-Winged Angel.
Omega and Black need to work a singles match at some point because holy f*cking s**t: their work deeper into the match was sublime. Omega destroyed him with a multiple snap dragon salvo, but couldn't position him for the One-Winged Angel. He was distracted by Julia Hart, who ate an unintentional V-Trigger. Omega's shrug of the shoulders was priceless.
The finish was amazing; Buddy Matthews with inch-perfect timing caught Nick Jackson mid-rotation with a knee flush to the face to counter the Meltzer Driver, who succumbed to Dante's Inferno.
If the Elite can combine this level of in-ring with the intricate storytelling prowess of 2020-2021, something very special beckons.