7 Ups & 2 Downs From AEW Dynamite (Dec 7 - Review)
Ricky Starks shows why he is Absolute, and the Acclaimed become the top guys.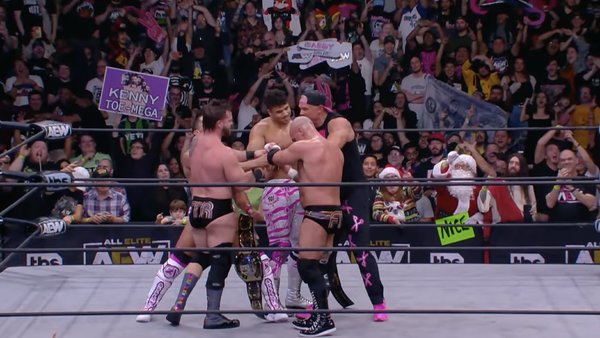 Tony Khan has recently played down criticisms that his booking of ROH titles has affected the AEW product.
Many fans are alienated by the small-time feeling of a brand that is significantly less meaningful than the brand they set time aside to watch. They believe AEW presents: ROH has inflated the value of the very concept of titles and, crucially, offers nothing that AEW does not. The self-contained storytelling in "ROH" is often very good, but it's at best unnecessary, at worst an imposition on the show. The mainline titles used to mean more than they do. Protesting fans want to feel that inimitable all-or-nothing drama of peak AEW.
Khan however maintains that he only really books Chris Jericho frequently on AEW programming, but isn't that in itself a telling admission?
"I've stopped inundating you with ROH stuff on Rampage, so calm down" isn't likely to get fans hyped at the prospect of Final Battle - but then, many would be unhappy were Khan to go hard on the sell. ROH is untenable either way: it's not worth dulling the special feeling AEW once cultivated, but it won't be worth anything if it just sort of exists.
If it's not already a real problem, it will certainly become one if it is felt that a ROH-related development actively detracts from something that might otherwise feel massive in a context exclusive to AEW.
That was the threat heading into this week's Dynamite: was FTR Vs. The Acclaimed, a potentially huge match at Revolution in an alternate universe very close to our own, booked only to set up an ROH World Tag Team title match at Final Battle via distraction finish? Was the biggest doubles match in AEW mere pretext to a Ring Of Honor match?
And if that's the case, isn't the presence of ROH now actively hurting the AEW product?
Happily...