7 Ups & 4 Downs From WWE Royal Rumble 2023
Cody Rhodes and Rhea Ripley win; Bray Wyatt's "new" gimmick; Sami Zayn exits The Bloodline.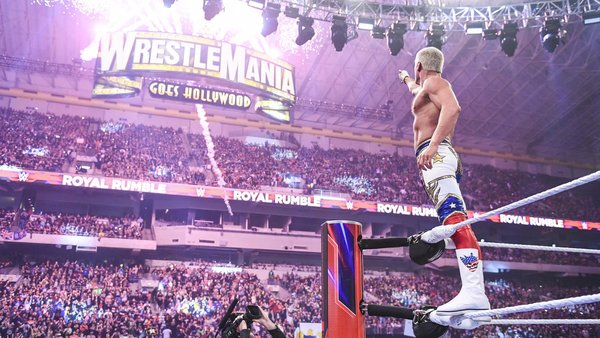 WWE was in a tough position heading into Royal Rumble.
Cody Rhodes' comeback announcement made it pretty obvious that he was winning the men's match, and Rhea Ripley was arguably the only choice to win the women's bout. Regardless, social media lit up with anticipation for The Rock's comeback, or maybe even Naomi returning with a bang.
Now for something strange: WWE is in an even tougher position coming out of Saturday night. Yes, Cody did win the 30-man favourite and will challenge Roman Reigns for the title at WrestleMania. However, Rhodes isn't the name on everyone's lips coming out of San Antonio - Sami Zayn's is.
Triple H might have something crafty up his sleeve though. 'Mania 39 occurs over two nights in April, and that means Reigns could pull double duty over the weekender by working Cody (WWE Title, which is his dream) and Sami (Universal belt). That'd satisfy everyone.
The Rumble was lower-than-expected on retro surprises, and the undercard was a real struggle at times, but WWE did successfully set the tone for WrestleMania fun to come. Plus, and this is a big plus, the main event's post-match angle was one of the best ever.
Here's all the good and bad.