7 Ups And 8 Downs From Last Night's WWE Raw (Feb 4)
Downs...
8. Why The Rush?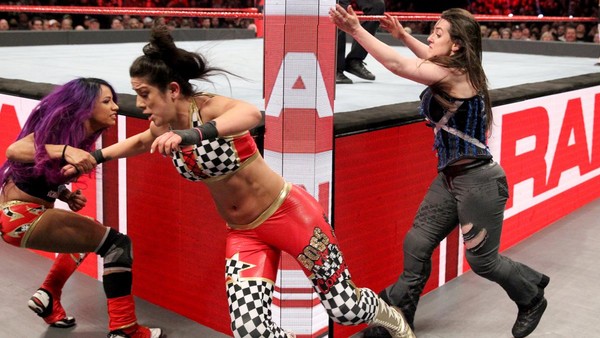 Unless the calendar has changed, the Elimination Chamber PPV is still two weeks away, so why was WWE compelled to put on a women's tag team match when one of its participants was injured?
Sasha Banks and Bayley defeated Nikki Cross and Alicia Fox on Monday for the final Raw spot in the PPV bout for the new WWE Women's Tag Team Championship, with Banks never tagging into the match. A pre-match brawl on the stage rendered Sasha unable to do little more than stand on the apron, as Bayley won single-handedly with a rollup on Fox.
Banks wore a knee brace on her right knee, which was never acknowledged by the announcers, which means it likely was legit, and the brawl was designed to cover up the fact she wasn't cleared to wrestle Monday night. But if that was the case, why didn't they just wait a week and hold the qualifying match on the go-home Raw? Another week might have allowed Sasha to heal up and compete and have a full match rather than a fluke rollup.
It's just an odd decision that seemed forced.
Scott Carlson
Scott is a former journalist and longtime wrestling fan who was smart enough to abandon WCW during the Monday Night Wars the same time as the Radicalz. He fortunately became a fan in time for WrestleMania III and came back as a fan after a long high school hiatus before WM XIV. Monday nights in the Carlson household are reserved for viewing Raw -- for better or worse.
See more from Scott