7 WWE Belts That Never Made It To Regular TV
6. The Brahma Bull Belt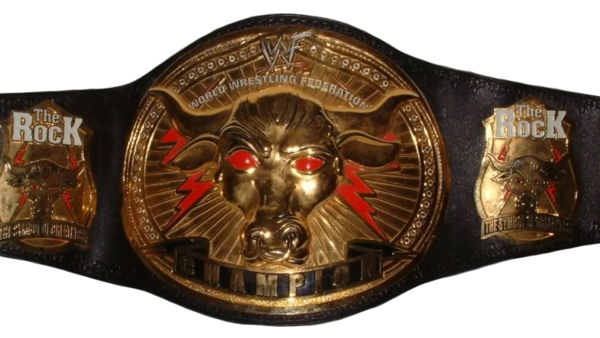 During 'Stone Cold' Steve Austin's legendary run as WWF Champion in 1998, many fans received with fondness the unsanctioned introduction of the "Smoking Skull Belt" following the Fully Loaded PPV. While the creation and debut of the belt were not authorised by Vince McMahon prior to its arrival, the belt caught on, and the "Smoking Skill" returned to TV as part of Austin's feud with The Rock the following year.
With Rock and 'Stone Cold' constantly jockeying for the position of WWF's #1 at the time, the decision was made for the company to create an exclusive title specifically for 'The Great One' as well. However, despite being made and ready to debut, the "Brahma Bull Belt" never appeared on WWF TV.
The reasoning behind its cancellation varies from source to source, with the long-standing rumour being that it was "lost in the mail". Nevertheless, that rumour has since been debunked. The Rock himself claims the title never made it to TV simply due to creative reasons.
Instead, the belt is currently locked away in the WWE vault. It has resurfaced numerous times at WWE Axxess events over the last several years.
Martyn Grant
Occasional wrestler, full-time gym rat and lifelong lover of the grapple game. Would probably buy you a shot of Jack at the bar in exchange for witty banter...and preferably more Jack. @MartynGrant88 for more wrestling-related musings and weight room wisecracks!
See more from Martyn