8 Best Brock Lesnar Matches Since Defeating The Streak
The Beast's best matches since defeating The Undertaker. Will Goldberg be added to the list?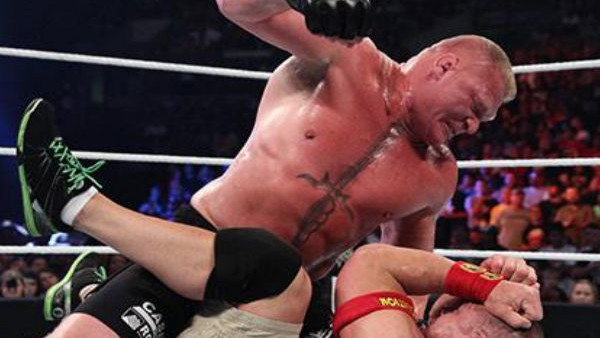 For the last two years, Brock Lesnar has been on a rampage. Running through anyone daring enough to step to him, Lesnar's comprehensively beaten the likes of John Cena and Dean Ambrose.
However, fans have begun to sour on "The Beast". While there's always been questions on Lesnar's commitment to sports entertainment, lately critics have been focusing their negativity on his matches, dismissing them as "boring" and "repetitious". Lesnar's inter-brand match against Randy Orton at Summerslam is the best and most recent example, as the match received a fair amount of backlash from the WWE Universe.
With a showdown against the returning Goldberg scheduled for this Sunday's Survivor Series, viewers will be eager to see what kind of performance Lesnar puts in. Will it be a repeat of their Wrestlemania 20 bout? Will Goldberg be the one to beat the one in 21-1? Will Lesnar do more than just German Suplex and F-5?
These are all questions that will be answered at Survivor Series.
Until then, let's take a look back at the 8 best Brock Lesnar matches since conquering The Undertaker's undefeated streak at Wrestlemania 30.
8. Brock Lesnar Vs. Dean Ambrose - WrestleMania 32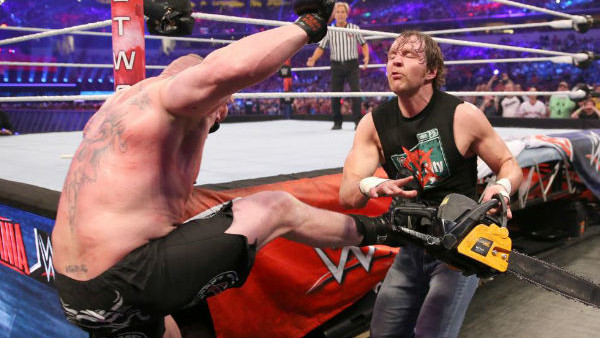 When Brock Lesnar faced the white-hot Dean Ambrose at WrestleMania 32 in a No Holds Barred Street Fight, the majority of fans were left disappointed. While the match was pretty good, it failed to live up to the expectations created during the weeks prior to the match. Leading up to the event, Mick Foley gifted Ambrose "Barbie," while Terry Funk thought it wise to give him a chainsaw. So when it came to the match and both weapons were teased but never used, fans were left to reminisce about the "good old days" of ultra-violence. However, even without the use of these weapons, the match was still plenty violent and the story told by the two competitors equally so.
Brock Lesnar was his usual self. An unstoppable beast with the size, strength, and power advantage over his opponent, Lesnar's biggest weapon was himself. Despite being legally able to, Lesnar refused to use any weapons on Ambrose, snapping several kendo sticks over his knee throughout the match. Instead he took Ambrose to Suplex City. Ambrose, the scrappy underdog, took the opposite approach, using anything he could to inflict damage. Ambrose's low blow to Lesnar was a significant turning point in the match and something that has become a common theme in Lesnar's matches since breaking The Streak.
The two main knocks on the match were its short length (13 minutes) and the lack of chainsaw cutting Lesnar's arms off. Ambrose's explanation for these two criticisms on The Stone Cold Podcast placed the blame squarely on Lesnar's shoulders. Ambrose told Austin that Lesnar "didn't want to do anything" and stated that "(Brock)'s all about Brock". Fans latched onto these comments, with many turning on Lesnar. However, they could well be kayfabe, as Lesnar is WWE's selfish, dominant bully who isn't interested in being liked. Brock Lesnar doesn't like people, remember?