8 Fourth Generation Pro Wrestlers
The Family Business.
When The Rock debuted as Rocky Maivia, it seemed a boon that he could use the names of both his Father and Grandfather without so nakedly relying on the legacy to get him over more than whatever his specific talents were.
The strategy and name failed, ultimately, but then perhaps he was always destined to until he found whatever it was within him that made him The Rock rather than just the son of the 'Soul Man'. It's a common problem for wrestlers with parents or other family members that already have a well-established relationship with the fanbase. Bret and Owen Hart were able to forge new paths beyond being (two of) Stu Hart's sons, Jeff Jarrett became a more popular wrestler (and, with TNA, arguably more popular promoter to the wrestlers at least) thanks to the time he broke through, and Randy Orton has eclipsed even the most history-making moments from his family's relatively rich past.
Then there are the Curtis Axels and Ted Dibiase Jr's, unable to turn good utility work into something with the money-drawing magnetism of their majestic fathers.
Simone Johnson won't likely debut on television as 'The Great One', but she'll carry something the expectation of some electricity, for better or worse. Thanks to her famous Father's famous Father's famous Father, She's also one of only a very select few to boast three generations behind her...
8. The Usos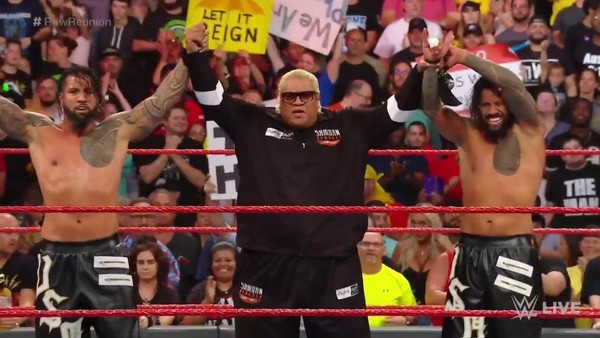 Parent: Rikishi
Grandparent: Elevera Anoa'i
Great Grandparents: Amituana Anoa'i & Tovale Anoa'i
Getting into this list on a technicality if not counted by WWE, The Usos' lineage traces back through the historic Samoan wrestling dynasty all the way to its very beginnings.
Amituana Anoa'i & Tovale Anoa'i are at the very top of the Samoan Family Tree, branching off in every direction including several others in this list. Jimmy & Jey currently reside at the very bottom having now spent longer over one continues stint with WWE (or any variant of it) than anyone else in the family.
Rikishi's repeated comebacks and nostalgia pops are borne out of a deep affection carved out between the former Headshrinker and WWE's biggest ever fanbase at their cultural, commercial and creative zenith in 2000, but his sons have done even more in the doubles ranks than both his 1990s team with Samu and Afa & Sika's fabled Wild Samoans act.