8 Last Minute Changes That Could Save WWE Clash Of Champions 2017
Get rid of the lumberjacks, for a start...
Christmas is a time for celebration and joy, but the many members of the WWE Universe will be screaming 'hallelujah' for very different reasons come Monday morning. The final WWE pay-per-view of the year is here, and what a slog it has been. Sure, some of the shows have been a lot of fun, but the majority of the year has been spent in bed with indifference and frustration.
SmackDown Live is tasked with ending the year on a high note, and the card for WWE Clash of Champions doesn't exactly inspire a whole load of excitement. The two main events of the show feature Jinder Mahal and two (yes, two) special guest referees. Wrestling fans could well be in for a long night.
As with 100% of WWE shows, a few minor changes could make a whole load of difference to this Sunday's pay-per-view. WWE isn't going to shake things up at this last juncture, but the show could be saved if it did.
8. Remove Mojo Vs. Zack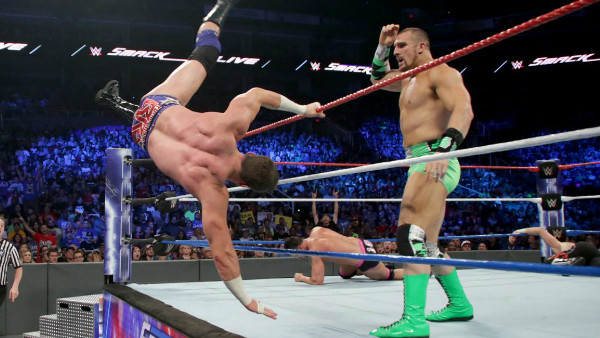 While that title might seem like the precursor to a tirade against a feud between Mojo Rawley and Zack Ryder, that is not the case. I believe the feud could actually do both guys a lot of good, provided WWE puts even the slightest bit of effort into it. Mojo has done his part in the shape of an incredible Twitter promo, adding a true layer of intensity to the story.
Going to a singles match between the two at this point is the wrong move. Unless WWE goes my recommended route of having Mojo destroy Long Island Iced-Z before the match begins, it is too early in the feud to book the one-on-one bout. As per usual, WWE has rushed to the main course without bothering to set the table.
This is a great example of where a NJPW-style card would work wonders in WWE. Instead of a singles match, Mojo and Zack could have been on opposite sides of a multi-man match, giving fans a taste ahead of a singles match down the line. WWE isn't about to completely overhaul its structuring for the sake of Mojo Rawley though.
A better idea would have been to book a singles match between Mojo Rawley and another lower card performer, someone along the lines of Tye Dillinger or Sin Cara. The idea should be to give Mojo a few wins ahead of the singles match. Why should the fans care about a feud between two losers?
John Bills
Born in the middle of Wales in the middle of the 1980's, John can't quite remember when he started watching wrestling but he has a terrible feeling that Dino Bravo was involved. Now living in Prague, John spends most of his time trying to work out how Tomohiro Ishii still stands upright. His favourite wrestler of all time is Dean Malenko, but really it is Repo Man. He is the author of 'An Illustrated History of Slavic Misery', the best book about the Slavic people that you haven't yet read. You can get that and others from www.poshlostbooks.com.
See more from John