8 Most Humiliating WWE Specialty Matches Ever
Not even the victors end these matches with their dignity.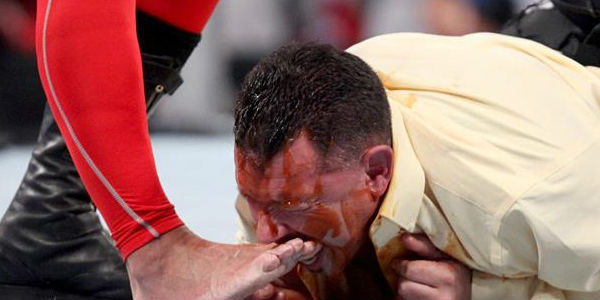 On October 26, at WWE's Hell in a Cell pay-per-view, Brie and Nikki Bella will bring their sibling rivalry to a head when they meet one-on-one in a match that, to this point, has been built to as well as any other on the entire card. Beginning at SummerSlam with Nikki's betrayal of her sister, the program has stretched two months and, after a rocky start, has managed to become a very focused, quality storyline. The latest wrinkle added to the program, revealed following the October 13 episode of Raw, is a stipulation for their impending contest. With both sisters joining Renee Young in a backstage promo, it was revealed that the loser of their match at Hell in a Cell will have to serve the winner as their assistant. It is a stipulation guaranteed to lead to several humiliating scenarios for the defeated sister. WWE history is full of matches in which humiliation and embarrassment awaited the loser. Some stipulation bouts were exclusive to one particular gender, such as the Bra and Panties match, while others were major pay-per-view attractions. Whatever the case may be, the matches are typically key chapters in a much larger story. Whether they are feud enders in which the heel gets their comeuppance or the obstacle that a babyface must overcome to eventually win the program, they certainly have a place in the business. With a huge match between the Bella Twins on the horizon and the humiliating stipulation match back at the forefront of fans consciousness, take a stroll through memory lane at some of the most vivid of the match types in the history of Vince McMahon's promotion.