8 Police Officers Called To GCW Outlaw Mudshow Following Violent Main Event
Nick Gage vs. Mance Warner got too real for Laramie police this weekend...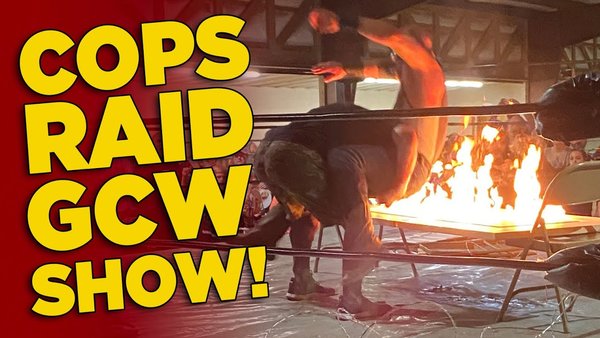 A Game Changer Wrestling event headlined by Nick Gage vs. Mance Warner was visited by police officers this weekend, with Joey Janela claiming the cops thought Gage vs. Warner was real.
Fighting at the Outlaw Mudshow event at Laramie, Wyoming's Albany County Fairgrounds on Saturday, 19 June, Gage and Warner got crazy, brawling across the building, spilling blood, and utilising a flaming door. Janela, who was doing commentary for the show, posted the following clip of the police speaking with Warner:-
8 Cops showed up questioning @ManceWarner and looking for Gage for the concussion stand brawl during the main event of @GCWrestling_

The good ole days are back! #LastOutlaws pic.twitter.com/cPJM0CPM5U

— "The Bad Boy" Joey Janela (@JANELABABY) June 20, 2021
The AEW wrestler posted another video of cop cars seemingly passing by a bar the wrestlers had headed to after the show, doing so "every three minutes", a couple of hours later:-
It doesn't stop! It's real again baby pic.twitter.com/T3L85sFxyc

— "The Bad Boy" Joey Janela (@JANELABABY) June 20, 2021
Here's an example of how violent the match got:-
Nick Gage is roasting Mancemallows #OutlawMudshow pic.twitter.com/XaxvEhWRrb

— Tripping Balls (@IsThisWrestling) June 20, 2021
Janela claimed that somebody inside Albany Country Fairgrounds mistook Gage vs. Warner for a real fight, hence why they called the police. Fortunately, it doesn't look like the situation escalated beyond what was captured by Janela above.
GCW has risen to prominence as one of America's biggest independent promotions over the past few years. Styling themselves as 'The Last Outlaws,' the group is known for its rowdy, envelope-pushing shows, often revolving around deathmatches and hardcore wrestling.