8 Ups & 1 Down From AEW Dynamite (29 March - Review)
When AEW was accused of telling flat stories, Tony Khan took that personally...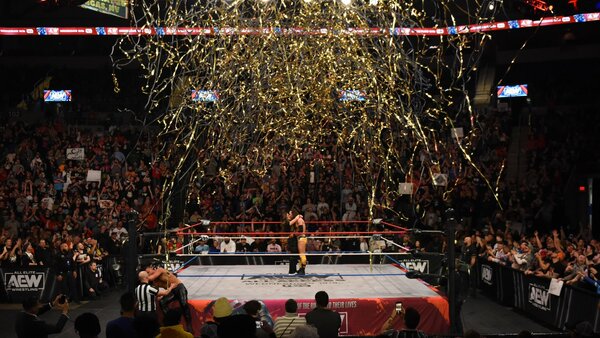 All Elite Wrestling is threading fascinating mysteries, the answers to which are elusive. A single segment of television conjures multiple match graphics, all of which are awesome, the order of which is hard - but fun - to determine. AEW last week promoted one of the best and the most spectacular match in the history of TV wrestling.
Kenny Omega is back at the epicentre of All Elite Wrestling.
These things are connected.
Back in September, before the events of Brawl Out were still raw and unresolved, fans were faced with an AEW with no 'E' - and it was weird. Even though they were hardly at the forefront of storylines, their unexplained absence brought into focus that the promotion simply isn't the same without Kenny Omega and the Young Bucks in it. AEW felt off. The values remained in place - expressive, full-pelt wrestling that embraced range - but the cloud would not lift. The Elite, ever divisive, can't wrestle forever. The 'E' will disappear for good at some point.
If there's ever an argument to be made that they should be tied to the promotion in some way for a long time - as agents or in creative, or both - Omega articulated it over the last couple of weeks. AEW feels whole and distinctively itself when he is crucial to its narrative elegance and unrivalled sense of energy.
tl;dr: AEW feels like it is back after what was a basic and uninspiring build to Revolution outside of the main event.
Did that feeling abide last night...?