8 Ups & 2 Downs From AEW Dynamite (1 Feb - Review)
Jon Moxley, Hangman Page, Samoa Joe and Darby Allin bring back the Wednesday Night WARS...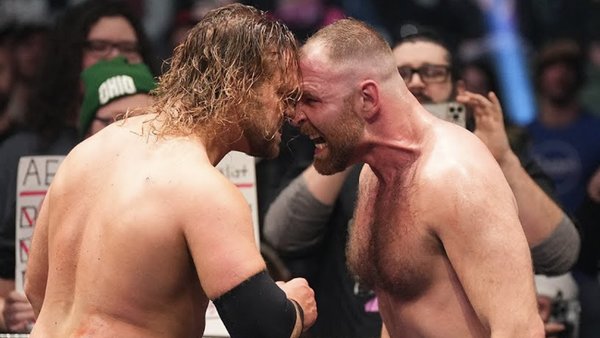 Was it greedy or entitled to expect stronger hints of (and accompanying angles for) the big matches at Revolution on Dynamite this week?
AEW, on a red-hot streak of cracking TV episodes, is still several weeks away from its next pay-per-view, and the intervening TV has done a sublime job of telling mini-stories and promoting high-end matches fit for the medium. Tony Khan, by promoting an excellent series between Jon Moxley and Hangman Page, has also addressed a complaint levelled against his promotion for much of 2022: where he was once a bit stingy, almost fearful of giving away big, unpredictable matches on TV, he has struck an almost ideal balance over the last few months.
A lot of people almost demanded editions of Dynamite of this calibre in the autumn, and we're getting them.
Still, this is a company that has raised expectation levels, and the superb angles on WWE TV of late have brought into focus that Wednesday nights might be a little too action-heavy in comparison. Outside of MJF Vs. Bryan Danielson, a tremendous slow-burn story of contrasts, what else is on store on March 5?
Are the Gunns, a fun prelim comedy act, really going to work the Acclaimed? Who is Adam Cole going to wrestle? Was the teased Elite Vs. House of Black Trios title match abandoned?
Did AEW answer these questions last night...?