8 Ups & 3 Downs From WWE Monday Night Raw (September 25 - Results & Review)
Drew McIntyre likes the dark side, Cody sees the light, Dirty Dom has the match of the night!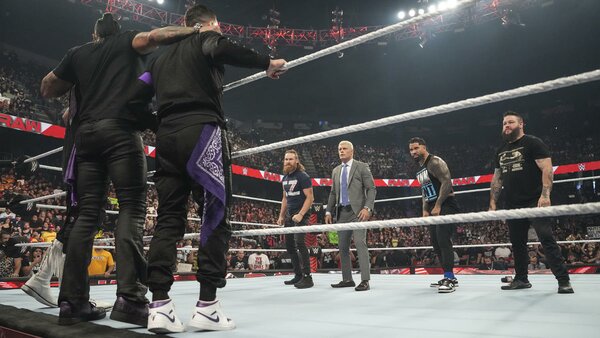 WWE is one company booking two shows, so how have they found themselves in a situation where they're doing a substantially better job with one than the other?
That's felt like the key question over the last few weeks, mostly due to the differing fortunes of The Usos following their divorces from The Bloodline and each other. Jimmy has been clowning around in the absence of Roman Reigns while Jey - selling the genuine trials and tribulations he went through - has tried to settle back into life on Mondays alongside a number of people who want absolutely nothing to do with him.
This was especially the case going into this week's show following his predictable but nonetheless dramatic decision to pie an offer from The Judgment Day to align with them in their quest to run all of WWE. He noped them in the grandest possible fashion and forged a deeper bond with Cody Rhodes in the process.
'The American Nightmare' brought him to Mondays in the first place, and seemingly he's the one most committed to making it work. Sami Zayn's on board too, but Kevin Owens is less convinced and on all this goes as the flagship seemingly looks to lay the table for WarGames at Survivor Series in November while servicing both Fastlane and Crown Jewel along the way.
Lots of characters, lots of potential twists and turns, and lots of trademark Triple H plotting. But did any of it thicken?