8 Ups And 2 Downs For WWE NXT (Jun 8)
Who is walking into WWE NXT TakeOver: In Your House with all the momentum?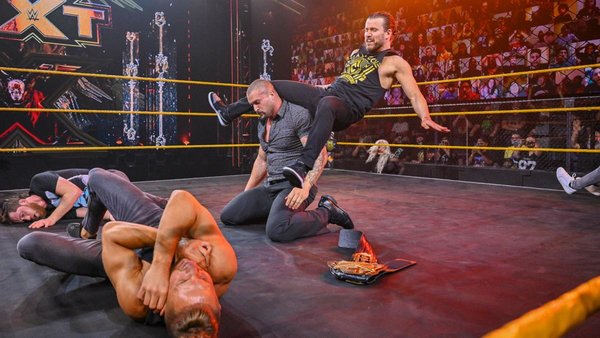 And just like that, TakeOver is once again only a matter of days away. Times flies when you're watching a main event scene flail around like a helpless trout freshly fished out of a lake by The Great One.
Fatal (in more than one way) Five-Ways aside, though, the black and gold brand pulled out all the stops when it came to making the upcoming Sunday special feel like something you simply cannot miss. Hell, they even brought Michael Hayes back and had him scream into the camera for two minutes. What more do you want?!
It was truly a night of big returns, with Poppy showing up to plug her new album and Candice LeRae's mouth with another returning star's boot. An iconic strap showed up to add some more lustre to a gold-encrusted stipulation bout. And even Triple H himself made an appearance, resembling an annoying father attempting to photobomb his kid's selfies at every turn.
The mid-card belts got in on the TakeOver action announcement too, with Santos Escobar determined to avenge having his insides squeezed out by Bronson Reed seven days ago. Elsewhere, could Ember Moon see off Raquel Gonzalez's insurance policy just a few days out from her biggest match since returning to the black and gold show last year?
For the answers to that and many more burning questions, such as "Why are you still trying to make In-Dex a thing?!", you're in the right place...