8 Ups And 6 Downs From Last Night's WWE Raw (Dec 17)
McMahons everywhere! Shaking things up! New debuts previewed!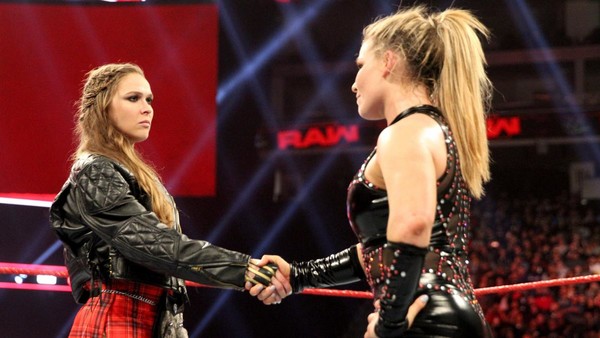 After admitting on the program itself that ratings were plummeting to all-time lows, Raw had to do something to change things up. You can't keep doing the same thing over and over and expect to get a different result.
So what did we get Monday night? McMahons. All of them.
That in and of itself is enough to warrant an eyeroll or three, as that seems to be WWE's solution to everything. Need to juice ratings for a week? Call a McMahon. Need a deus ex machina? Call a McMahon. Need someone to have a centerpiece match at WrestleMania? Call a McMahon.
And what did the McMahons bring us on Raw? An admission of guilt… sort of. We got Vince, Stephanie, Shane and Triple H all acknowledging the poor showing of Raw lately and a vow to listen to the fans and deliver a better product, with more wrestlers getting opportunities.
Honestly, just cutting Baron Corbin out of the show would free up a half-hour every week.
Raw itself wasn't bad at all, with a women's gauntlet match for a Raw Women's Championship title shot on the line. There also was a fatal four-way match for a Raw Tag Team Championship match, as well as an Intercontinental Championship open challenge.
It wasn't a bad effort at all, but it'll be interesting to see how the ratings stack up.
With that said, let's get to it…