9 Match Star Ratings For AEW Revolution 2021
Kenny Omega and Jon Moxley brought the fireworks at Revolution. The figurative ones were great...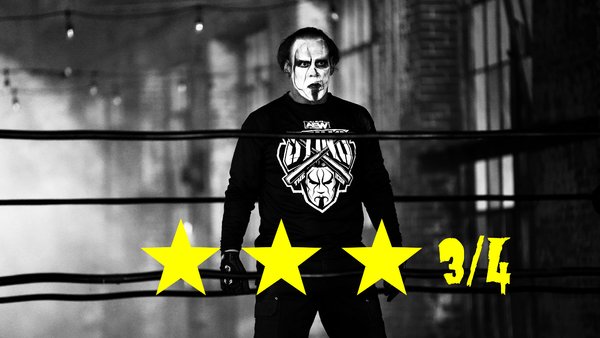 The Road to Revolution was near-perfect.
MJF and Chris Jericho Vs. the Young Bucks measured a classic (and hysterical) babyface versus heel dynamic against wider Inner Circle friction. If the title switch happened, it would further the divide between the stable, leading to further questions over what purpose Santana and Ortiz served. If it didn't, who would be blamed? How would this affect the power balance? Lacing drama into either outcome at the same time as calling Conrad Thompson "turkey t*ts": this was majestic booking.
Kenny Omega contrived to dream up an even more unhinged stipulation than the Lights Out match after people - or "You fools" - thought he'd got it backwards. Sting and Tony Khan, with a knowing but not remotely smug smirk, broke the invisible wall in recent weeks by showing what the 61 year-old is capable of in wild scenes pulsing with the old Nitro energy. After a long while, they finally matched the electricity of Team Taz.
The Eliminator tournament and the tremendous restoration of Nyla Rose - and how that functioned to get Ryo Mizunami over - rendered any (or most) Women's division complaints extinct. And while Miro and Kip Sabian's grudge with the Best Friends was utter stakes-free ceaseless drivel, the very short pre-tapes that built it indicated that AEW knew that too, and stopped imposing it.
As for the show itself, which incidentally can be accessed via FITE TV outside of the U.S. in several markets in glorious, lag-free HD...?
9. BUY-IN: Dr. Britt Baker & Rebel Vs. Thunder Rosa & Riho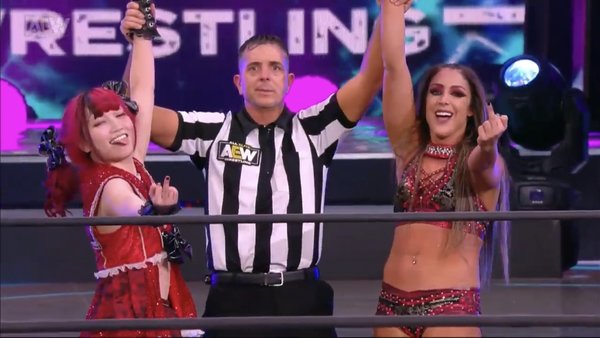 The least telegraphed and most popular surprise - AEW should probably learn from that - Maki Itoh replaced the "injured" Reba.
She was a star in this match. Able to draw a reaction from the crowd just by asking them to with her doe eyes - before revealing the imp within by standing on Thunder Rosa's feet - she was quickly bent into a delightfully nasty shape by Rosa, who in turn instantly flipped off Britt Baker. Rosa was a star in this match, working a tight and vicious ground game and conveying an authentic, barely-contained hatred with her baleful expressions. Riho, who thumbs-upped Rosa's heinous forearms with a look of innocent approval wonderfully dissonant to what she was approving of, was a star in this match.
And Baker is the star of a division that increasingly feels loaded with them: lancing the cutesy overtones with a vile neck crank applied to Riho, she offered the middle finger right back at Rosa. This was such a fun, confident and expressive match that felt miles and miles removed from the obligatory pre-show fare it might have been a year earlier.
Highlighted by the eventual Baker Vs. Rosa clash, the old takes can be formally pronounced dead. There was no awkward hesitation informed by visible memory recall here: this was a scrap very capably worked by two women who are quite brilliant at conveying a mutual hatred.
Star Rating: ★★★½