9 Ups & 0 Downs From AEW Dynamite: Grand Slam
Kenny Omega and Bryan Danielson highlight special show with ***** classic.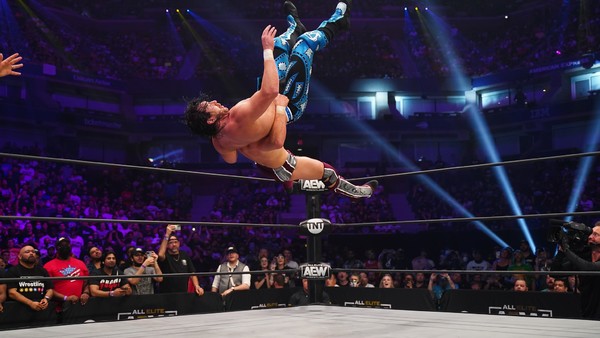 The build to AEW's New York debut was just exceptional, and it started before CM Punk and Bryan Danielson were even rumoured to sign.
The venue itself was such a gorgeous selling point. Fusing the vast scale of a stadium with the intimacy and pragmatic capacity of an arena, the unique beauty of the backdrop and the ambition of its size led one to expect something major. The actual televised promotion matched that expectation.
Kenny Omega Vs. Bryan Danielson was sold as modern wrestling's biggest dream match. It should not have been promoted under any other circumstance, and the simplicity was executed with a true, epic feeling. Cody Rhodes Vs. Malakai Black used a trusty AEW device - rival batters opponent's stablemates to get over via winning streak that intensified the personal stakes - and it was elevated by their red-hot brawling chemistry. FTR scrubbed the paint off Sting and Darby Allin in a fantastic angle. The paint immortalises Sting as an ageless Icon. He has never looked so vulnerable and has never been victim to such disrespect. MJF perfected the art of disrespect by conducting heat more effectively than copper in his scorching burials of the Brian Pillman legacy.
Dr. Britt Baker and Ruby Soho executed a naff and passé promo battle style expertly on Rampage. Some of the deep cuts didn't even make any sense - Baker was a superstar at least a calendar year before Adam Cole even arrived in the promotion - and yet the delivery was so fiery that they created a bigger fight feel than in any AEW Women's Title match to date.
AEW promised nothing less than an immortal night of professional wrestling in Arthur Ashe stadium.
Did they smash it like Roger Federer, or f*ck it like Tim Henman?