9 WWE Superstars Released Today - Samoa Joe, The IIconics, Kalisto & More
Samoa Joe, The IIconics and SIX other wrestlers have been released by WWE.
A year to the day that the company started making its last mass releases, WWE has today released nine wrestlers.
By the time you're reading this, that number may have already risen, as WWE.com and the WWE Twitter account have been drip-feeding the news that certain superstars have been let go by the company across the last hour or so.
WWE first announced that Billie Kay and Mickie James had been released, before that was shortly followed up by the news that Kalisto, Wesley Blake, Chelsea Green, Bo Dallas, Tucker and Samoa f**king Joe had similarly been handed their release. This was then joined by Peyton Royce's release being announced – and that's currently where we're at right now.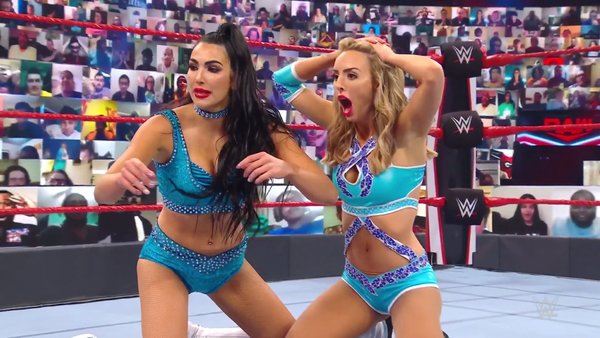 According to Fightful, John Laurinaitis is the person calling talent to inform them of this news, with "budget cuts" being cited for the reasoning behind these firings. It's worth noting that WWE is a company that turned record profits last year.
WWE has come to terms on the release of Billie Kay and Mickie James.

We wish Billie and Mickie the best in all of their future endeavors.https://t.co/59Ea2hXLZt

— WWE (@WWE) April 15, 2021
WWE has come to terms on the release of Samoa Joe, Chelsea Green, Tucker, Kalisto, Bo Dallas and Wesley Blake.

We wish them all the best in all of their future endeavors. https://t.co/657qwu8wGc pic.twitter.com/gSSxc2JHFf

— WWE (@WWE) April 15, 2021
WWE has come to terms on the release of Peyton Royce.

We wish her the best in all of her future endeavors.https://t.co/55CLz9UeBB pic.twitter.com/rJQASt4xII

— WWE (@WWE) April 15, 2021
Where do you even start with all of this? It's never nice to see anyone lose their job, but some of those names immediately stand out as head-scratching decisions.
For example, Chelsea Green was gearing up to make her return from injury, seemingly set to make a splash on SmackDown. Then there's Billie Kay, who has been one of the most entertaining parts of WWE programming across the past year. Similarly, Kay's former IIconics partner Peyton Royce was a highlight of these past 12 months and finally looked like she might get a serious shot as a singles act.
Then, well then there's Samoa Joe. In the Samoan Submission Machine, WWE had someone who could instantly be plugged into any main event spot at any time and who could viably be presented as a credible World Champion. And even if WWE is unable to clear Joe for action, the guy has proven to be a great commentator and would surely be a brilliant presence to have in and around the WWE Performance Center.
For now, it stands as nine names now unemployed due to WWE's "budget cuts". Given that last year saw WWE – again, after bringing in massive profits – releases upwards of 100 staff across its talent roster and Stamford office, there has to be a fear that these nine may not be the last to be handed their release today and across the next few days.
Create Content and Get Paid
---