9 WWE TLC 2014 Results Predictions
TLC: Tables, Ladders, Chairs ... and Stairs.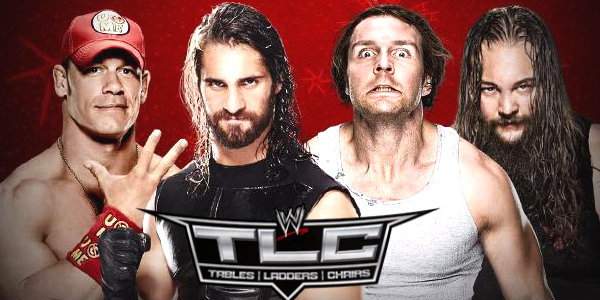 WWE have officially rebranded this Sunday's live Network special as TLC: Tables, Ladders, Chairs ... and Stairs. It will also be airing on pay per view, coming live from the Quicken Loans Arena in Cleveland, Ohio. Once again, this will be a WWE show without the Champion. Brock Lesnar is not scheduled to be involved in any way, meaning that TLC is without an obvious show closing main event. Maybe it will be Dean Ambrose vs Bray Wyatt in the TLC match, or perhaps John Cena vs Seth Rollins in the table match is considered the headliner. Anything could be going on last. As you'd expect, it is a gimmick heavy show. However, too many ingredients can spoil the broth. A collection of gimmick matches does not equal quality. You can't help but feel that this show is missing the Champ more than any of the other recent efforts have. The promotional build has been a bit of a miss. Everything has felt contrived, with very typical angles like faces / heels being decked with the respective TLC weapons. WWE are definitely in that end of year mode, where everyone is ready to just go home and enjoy the holidays. Nevertheless, TLC 2014 could end up delivering. Ambrose vs Wyatt is particularly interesting. Both men will surely want to steal the show with the TLC gimmick that they get to work with. Cena vs Rollins is also two top guys going at it. But who will walk out a winner?