Adam Scherr & Buff Bagwell Feud On Twitter After Control Your Narrative Joke
Things got heated (and personal) when the former Braun Strowman responded to Bagwell's CYN jab.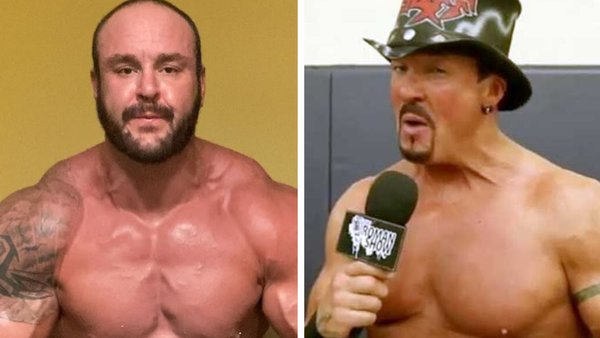 An unlikely Twitter spat unfolded on Tuesday evening, as Adam Scherr (the former Braun Strowman) clashed with Buff Bagwell after the latter made a joke about the former's current home promotion, Control Your Narrative.
It began with Bagwell tweeted the following:-
I just joined CYN. Wait, never mind, it was just gas.

— Marcus Bagwell ? (@Marcbuffbagwell) April 12, 2022
Recent weeks have seen Buff grow in prominence on Twitter, as he makes seemingly earnest attempts at reintegrating himself into the modern pro wrestling landscape. Part of this involved entering the now-infamous Clusterf*ck match at Joey Janela's Spring Break 6 over WrestleMania 38 weekend. Now, Bagwell is attracting flak from a monster.
Scherr's first response saw him allege that Bagwell had previously asked him for a photograph, accompanying the claim with a screenshot of an article on Bagwell's May 2021 arrest for multiple charges, including DUI and hit and run:-
Funny you gonna try and throw shade casue what you think it's the cool thing to do. You wanna look edgy?? Cause you sure were a mark asking to take a picture with me. You should probably worry about your narrative. pic.twitter.com/9nxzYKDw42

— Adam Scherr (@Adamscherr99) April 12, 2022
Buff then quoted another of Scherr's tweets, attaching a screenshot documenting the former Strowman's 2013 arrest for driving a boat while intoxicated (Scherr later tweeted that the text beneath the arrest record was "fake"):-
Should I have done it on the water? @Adamscherr99 something about glass houses. I'm open about my past mistakes, and tend not to bring others up against them. You got offended because I made a joke about something I didn't even know you were part of because I didn't know you. https://t.co/y2aOBi4Hxy pic.twitter.com/8ekPtvYYH4

— Marcus Bagwell ? (@Marcbuffbagwell) April 12, 2022
The replies continued, though Scherr was the first to back down. Bagwell, fortunately, agreed:-
I agree we should be sticking together, but we also need to listen to the fans, even the ones we don't like because they pay our bills. Let's all be better ?? much love brother.

— Marcus Bagwell ? (@Marcbuffbagwell) April 12, 2022
Following all of this, Scherr invoked Eric Bischoff to suggest this was the plan all along.
Create Content and Get Paid
---