AEW Announces 'House Rules' Live Event Tour
"A great way to connect with our incredible talent and experience AEW in an intimate setting."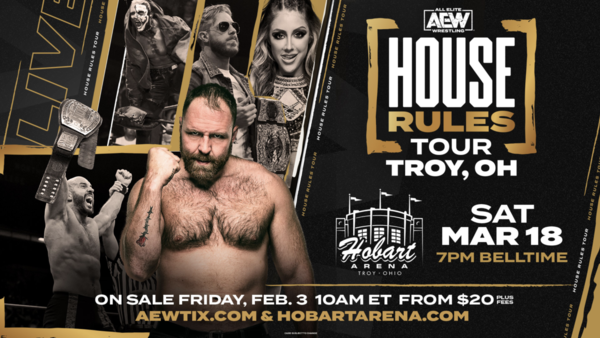 AEW has announced its first true series of live events, 'House Rules', which kicks off in Troy, Ohio on Saturday 18 March.
Described by the promotion as "intimate, weekend events to kick off in markets across the U.S.", House Rules was announced on Wednesday, with further show announcements beyond the Troy date expected shortly.
Troy's Hobart Arena has a maximum capacity of 3,782. Presumably, that number would drop for a wrestling configuration, which requires increased staging compared to other sports.
House Rules represents AEW's first proper run of house shows since the company's 2019 formation. April 2021's The House Always Wins stands as the exception. Although AEW filmed that show, it is yet to be broadcast.
AEW's full press release, featuring comments from founder Tony Khan and Director of Business Development Jeff Jarrett, is below.
AEW Announces Launch of Live Events Series: "AEW House Rules"
-- Intimate, Weekend Events to Kick Off in Markets Across the U.S., Starting March 18 in Troy, Ohio --
Feb. 1, 2023 – AEW CEO, GM and Head of Creative Tony Khan today announced the launch of "AEW House Rules," a live event series taking place on select weekends in markets across the country. Continuing the promotion's meteoric rise and following the success of "AEW: Dynamite" on Wednesdays on TBS and "AEW: Rampage" on Fridays on TNT, fans can expect an up close and personal experience at local venues along with a spectacular and engaging environment.
These non-televised, live events will showcase an electrifying mix of matchups featuring the stars of AEW. Each event offers an even more immersive experience for fans, including customized merchandise, unique ways to engage with featured talent and in-show interactions different from what is featured on televised AEW programming.
The first AEW House Rules show will take place on Saturday, March 18 in Troy, Ohio, at the Hobart Arena and will feature Ohio's own Jon Moxley, Claudio Castagnoli, Dr. Britt Baker, Darby Allin, Orange Cassidy, and many more. Tickets for all AEW House Rules shows start at $20 plus fees and can be purchased at AEWTIX.com starting Friday, Feb. 3 at 10 a.m. ET. Further show dates will be announced in the coming weeks.
"As a lifelong fan of professional wrestling who grew up attending house shows, AEW House Rules is an exciting next step in our journey, giving fans a new level of access to top-tier professional wrestling," said Tony Khan. "We're always looking for meaningful ways to engage with our fans, and AEW House Rules will be a great way for them to connect with our incredible talent and experience AEW in an intimate setting."
"The extraordinary success of AEW changed the landscape of professional wrestling as a whole, not only by providing a fresh new product, but also by raising the bar in a manner that many deemed impossible a few years ago," said Jeff Jarrett, AEW's Director of Business Development. "Now as we expand to live house shows, fans can expect an innovative approach and get up close with the best talent in professional wrestling. In addition to satisfying the passions of diehard fans, we're excited about creating new fans of all ages through these entertaining events."
"I'm looking forward to teaming with Jeff Jarrett to oversee the expansion and growth of our live event touring schedule," said Rafael Morffi, AEW's VP of Live Events. "AEW House Rules ramps up our commitment to creating positive, memorable experiences for fans
About AEW
Founded by CEO, GM and Head of Creative Tony Khan in 2019, AEW is offering an alternative to mainstream wrestling, with a roster of world-class talent that is injecting new spirit, freshness and energy into the industry. "AEW: Dynamite" airs every Wednesday from 8-10 p.m. ET on TBS and attracts the youngest wrestling audience on television. The fight-forward show "AEW: Rampage" airs every Friday from 10-11 p.m. ET on TNT. AEW's multi-platform content also includes "AEW Dark" and "AEW Dark: Elevation," two weekly professional wrestling YouTube series, "Being the Elite," a weekly behind-the-scenes YouTube series, and "AEW Unrestricted," a weekly podcast series. For more info, check