AEW Boss Tony Khan Reveals His Favourite Modern WWE Match
AEW's Tony Khan talks WWE and reveals his favourite match of the last decade.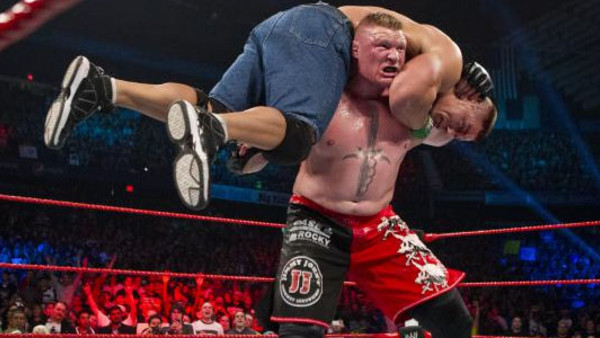 Obvious statement alert: Tony Khan is a massive pro wrestling fan.
The AEW owner recently appeared on Renée Paquette's 'Oral Sessions' podcast for a little chit-chat, and he ended up revealing his favourite WWE matches. Retro highlights include Ricky Steamboat vs. Randy Savage from WrestleMania III and Bret Hart vs. Mr. Perfect from the first King Of The Ring pay-per-view in 1993.
What is Tony's fave modern WWE bout though?
It's actually John Cena's pulsating brawl with then-comeback machine Brock Lesnar at Extreme Rules 2012. Khan told Renée that both men "beat the hell out of each other"; he also said it was special to watch a rampant Lesnar "beat the sh*t" out of Cena, because WWE fans had been de-programmed away from gratuitous violence during the 'PG' era.
Tony noted that such brutality "wasn't for everybody". Then, he said he liked it for another reason: Brock took care of Cena even when he was pasting him, and "it was a lot safer" than his SummerSlam 2016 effort opposite Randy Orton.
So, there you have it. Tony Khan's favourite modern WWE match is Cena vs. Lesnar from Extreme Rules 2012.
Create Content and Get Paid
---