AEW Filing Infamous Triple H Trademarks For MJF
New AEW World Heavyweight Champion drilling into 'The Game's hated history.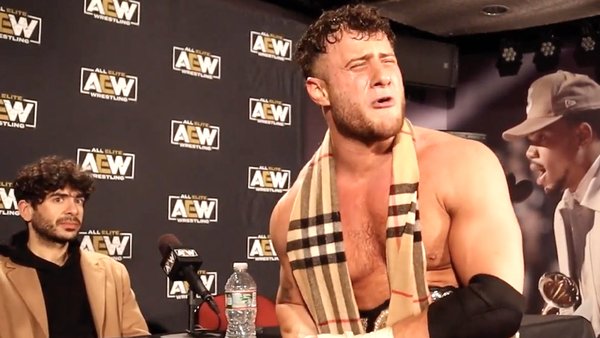 MJF and All Elite Wrestling are attempting to legally make his "Reign Of Terror" with the AEW World Heavyweight Championship a little more official.
This is according to the Wrestling Observer, who reported that;
After uttering the phrase "reign of terror" during a segment on last Wednesday's Dynamite, a representative for AEW World Champion MJF filed to trademark the term the following day for merchandise like hats, t-shirts, sweatshirts and bandanas.
New titleholder Friedman uttered the dreaded term with the knowledge of all the weight the phrase holds with a certain vintage of wrestling fan - one that makes up the majority of the company's key demographic.
Coined by the hardest hardcores still watching Monday Night Raw after WWE slipped out of the mainstream around 2002, the phrase relates to Triple H's stranglehold on the World Heavyweight Championship between the start of his first reign in September 2002 and conclusive defeat to Dave Batista at WrestleMania 21 in 2005. Hunter had five separate runs with the belt over the time, regularly gobbled up television time with rambling self-aggrandising promos, beat just about everybody to a point where their ceilings were irreversibly lowered and worked almost zero matches worthy of his continued elevated status.
MJF will hopefully avoid all of those traps, though mining the period as a heel bit makes all the sense in the world as the 'Salt Of The Earth' attempts to convert rising cheers to boos once again.
He was of course wise to put over 'The Game' in his speech, adhering to his "War Of 2024" WWE courtship storyline whilst tacitly burying one of the worst periods in the company's history.