AEW Is Paying MJF A "Stupid, Absurd Amount Of Money"
MJF's new AEW contract has landed him in the money - according to the man himself.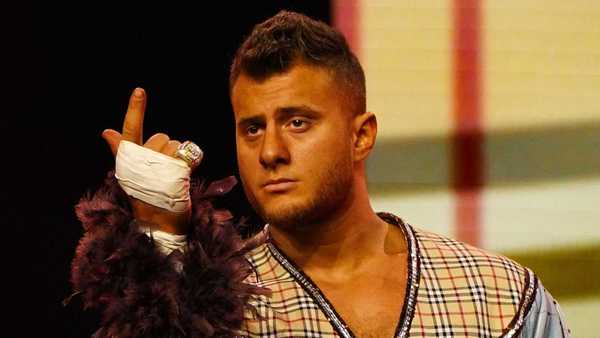 Maxwell Jacob Friedman has landed himself a big-money contract renewal with All Elite Wrestling.
The 26-year-old, who returned to the Tony Khan-helmed promotion at All Out 2022 (4 September), has claimed that he is now earning "a stupid, absurd amount of money" per his new terms. As a result, MJF now believes that the bell is in his court when it comes to his wrestling future.
MJF made these comments during an appearance The MMA Hour with Ariel Helwani. An interesting move, given that it was an unapproved appearance on this very show that accelerated the disintegration of the AEW/MJF relationship in the first place, leading, ultimately, to him taking three months off between June and September.
Said Friedman of his previous MMA Hour appearance (h/t Figure Four Online/The Wrestling Observer):-
"Did PR get a little upset that I didn't clear it with them? Yes. Does PR now have absolutely no choice but to just salivate at the fact that MJF is leaving his house to do an interview in regards to Arthur Ashe? Yes, because things have changed a little bit... The ball's in my court, pal, that's what's changed. What does that mean? Let's talk now. I'm one of the biggest ratings, not just in AEW but in all of professional wrestling minute for minute. If you don't believe me, hit up Brandon Thurston, he's a great guy, puts up a lot of great information."
MJF has continued referring to "the great bidding war of 2024" since returning to AEW, suggesting that his contract, which was originally reported to expire in January 2024, has not been extended despite the new terms. On this subject, MJF claimed that money remains his ultimate motivator:-
"I go where the money is at, whoever is going to offer me the most amount of money is where I'm gong to go, that could be anywhere. Hell, if there's some financial backer out there that wants to start his own wrestling company and use me as the figurehead, that's where I'll go. It's that simple, that's all I care about is money."
Friedman then refused to confirm or deny if a plane ticket out of Las Vegas, Nevada had been bought in his name during Double Or Nothing weekend, which was a hot-button topic in May. That's when he dropped the "stupid, absurd amount of money" quote:-
"I cannot confirm or deny there being a plane ticket. What I will say is this, I'm a businessman, I do what I have to do in order to ensure that what I need gets done. It got done, I'm back, I'm making a stupid, absurd amount of money now and I didn't have to sign a contract extension."
MJF won AEW's latest Casino Ladder Match at All Out, banking himself a future World Championship shot. Bryan Danielson and Jon Moxley will contest the vacant title at Grand Slam this Wednesday.