AEW Lies Exposed: Backstage Attitude, William Regal & More
Why you shouldn't believe every AEW Narrative people who aren't in the company try to Control.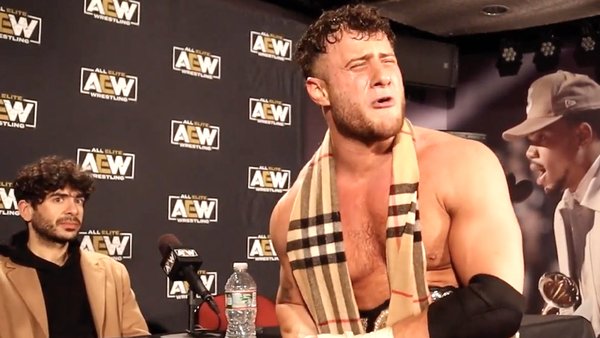 Rumours that the outgoing William Regal was upset with AEW roster members for not taking him up on coaching offers have been greatly exaggerated.
This is per SEScoops' BJ Bethel, whose sources indicate that EC3's recent claims about Regal being frustrated with AEW talent for not listening to veterans are "totally inaccurate."
EC3, the former WWE and IMPACT Wrestling star, told Sportskeeda the following last week:-
"He's (William Regal) too valuable to not be in a developmental system. The thing is they're not listening. The talent doesn't listen to the veterans for the most part. The ones that do are knocking him in the back with brass knucks and the world champions and the other ones are doing moves all the way from Dynamite to Rampage to Dark and nobody cares."
SEScoops' sources have rubbished EC3's talk not only on talent not taking him up on the aforementioned coaching opportunities, but his supposed discontent at "maturity issues" within AEW management in said. One source claimed that the Englishman was never involved in formal, scheduled coaching sessions:-
"There was no formal coaching session, where it was something that was scheduled or anything like that. Usually he would go down to the ring to help someone, and word would spread, like, 'Hey, Regal is down in the ring.'"
The same source credited Dustin Rhodes and Bryan Danielson among those who regularly work with younger AEW wrestlers. Another, meanwhile, called EC3's comments "complete bullsh*t", adding:-
"I can't believe this is a story. It's complete bullsh*t. There was never some schedule you had to be down at the ring and people blew it off, and (Regal) was never going to flat tell someone they had to come to the ring so he could coach them. Regal would work with someone, people would go down and show up, a lot of people took advantage of it. Other vets do it all the time. It's always the younger women and men. Sometimes someone would work with someone one on one, other times there could be quite a few people down. It was totally informal."
A third source added that Regal would often sit in the stands to provide a fan's perspective, passing on advice on how to come across well on television:-
"Regal would even sit in the stands with guys to talk about the fans point of view, or the point of view of watching on TV. He would tell you about making sure to know how you are looking to fans as you come to the ring or how you would look on TV. He said to make sure you're always really nice to the camera guys, they're the ones who make you look good (laughing)."
Regal is currently believed to be on his way out of AEW following last week's Dynamite, on which he was assaulted by MJF, seemingly as part of a write-off. Current reporting points towards an imminent WWE return under the company's new regime, having been released by the previous leadership in January.
Create Content and Get Paid
---