AEW Original Reveals Contract Expiry Date
Is AEW's sparser road schedule contributing to this legend's physical problems?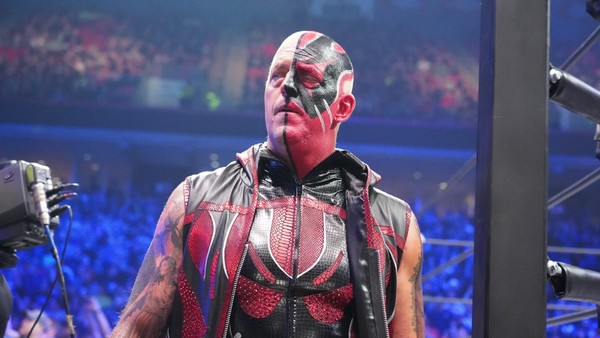 Dustin Rhodes' AEW contract expires in July 2023, the wrestling legend has confirmed.
A recent appearance on Busted Open Radio saw 'The Natural' state that when his deal is up next summer, he will, at the very least, be looking to tone things down between the ropes. This comes after Dustin had claimed 2023 would be his last year as an active competitor during an appearance at an independent show last weekend.
On Busted Open, Rhodes applied the "never say never" disclaimer but claimed he was looking for an "end date" on his career after so long in the game (h/t WrestlingNews.co):-
"I made a decision that at the end of July, my contract is up, and I'm going to be done with in-ring, or at least, tone it way, way down. I don't know if that's going to be it because they say when we're retiring, they always come back and you never say never, but that's what I'm looking for is an end date for my in-ring wrestling career and that will be 35, almost 36 years in the business, and I think that's a good round number."
Continuing, Dustin said that he has no regrets after a career well spent:-
"There's nothing that I haven't done, good or bad, that I regret in the business. I love everything that I've done. The bad things have always come to me and taught me lessons, and I've become a better man for those. I want to get out while I can still walk, but still teach the kids, still coach hopefully, if God willing, I'm allowed to do that here or whatever, and occasionally make an on-screen appearance, I don't know, but I just don't want to embarrass myself is the main thing."
The same conversation saw Rhodes outline the physical toll that AEW's sparse road schedule (compared with WWE) takes on his ageing body. Wrestling five days a week in WWE "calloused" the body, helping Dustin (and others) get used to the physicality, though working less often in AEW doesn't come with that benefit:-
"It does help my body, but on the flip side of that, it's hard when you're not working five days a week like the WWE schedule. Your body gets calloused and you get used to it and things like that. Now I work every 2, 3, 4 months and it's like, man, you go 100 miles an hour and then you pay the price for it. It takes me a week in a half to two weeks to recover from one match. You start to see those things and my knees are pretty rough. My knees are pretty rough."
Dustin has effectively been with AEW since day one, debuting opposite brother Cody at Double Or Nothing 2019. His last televised appearance came in this week's Dynamite Diamond Ring Battle Royal.
Create Content and Get Paid
---