AEW Pays Tribute To Jay Briscoe On Dynamite - Mark Briscoe Defeats Jay Lethal
A beautiful, heartbreaking night, as AEW, Mark Briscoe, and Jay Lethal honour the late Jay Briscoe.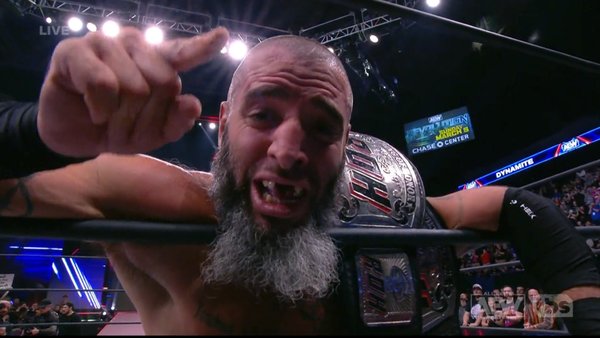 AEW paid tribute to the late, great Jay Briscoe on last night's episode of Dynamite, with Jay's brother Mark defeating Jay Lethal in the main event - and a special video package airing earlier in the show.
Featuring highlights from Jay Briscoe's life and career, incorporating clips from wrestling rings and his home, the video was quickly uploaded to AEW's social media platforms:-
Thank you, #JayBriscoe ❤️ pic.twitter.com/XCLaXXyZ0s

— All Elite Wrestling (@AEW) January 26, 2023
It would be difficult even for those who aren't as familiar with The Briscoes and their wrestling legacy to feel something watching the above. His career aside, a family man with three children, a wife, a brother, and two parents, with hundreds of friends - many of whom he would have considered family too - passed away last week.
Later, Jay's brother, Mark, courageously stepped into a wrestling ring just eight days after his sibling's passing at 38 years old. In Lethal, he faced one of his brother's most decorated singles rivals. It transcended professional wrestling. No play-by-play of moves and holds could do justice to the flood of emotions that washed through the building from Lethal's ring entrance to the closing scene of Mark and the AEW locker room stood at the top of the ramp, gathering before a memorial graphic celebrating Jay.
👏 Mark Briscoe 👏 #AEWDynamite pic.twitter.com/iSq7FZmPO2

— AEW on TV (@AEWonTV) January 26, 2023
Mark defeated Lethal with his brother's finishing move, the Jay Driller. In performing last night, he proved himself one of the strongest people walking this earth.
ROH's Caprice Coleman and Ian Riccaboni called the match with Excalibur. Bobby Cruise came in as ring announcer. Amongst the wrestlers gathered on the ramp at the end were Adam Cole, Christopher Daniels, and others who spent much of their careers living and working alongside Jay.
Most importantly, Mark got the opportunity he deserved to honour and celebrate his late brother in the perfect setting. This was a classy, dignified tribute - and realer than professional wrestling. The catharsis flowing through that man's body must have been overwhelming.
For those in a position to help, the GoSendGo campaign to raise funds for Jay Briscoe's family remains active. Another has been set up for the family of Lillyanne Ternahan, who also died when her vehicle collided with Briscoe's on Tuesday, 17 January. She was just 27 years old - and left behind two children.
Pro Wrestling Tees/Ring Of Honor have also launched a commemorative Jay Briscoe t-shirt, with 100% of the proceeds going to his family.
Create Content and Get Paid
---