AEW Referee Shoots On "Bullsh*t Gatekeeping" For Female Wrestling Fans
This AEW ref wants "bullsh*t gatekeeping" for women who like wrestling to stop.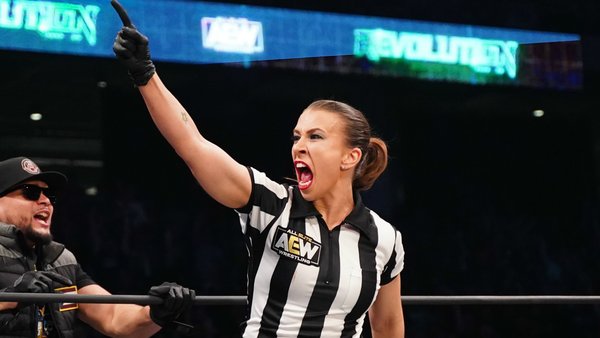 AEW referee Aubrey Edwards wants pro wrestling to move away from "bullsh*t gatekeeping" for female fans getting into the industry as fans or peers.
Speaking via the AEW Unrestricted podcast, Aubrey said most young girls and women have heard the same old questions; "Oh, are you actually a wrestling fan? Well, who won the main event of this pay-per-view? If you don't know, you're clearly not a wrestling fan!".
Edwards would like to see that stop, because it can be off-putting and feels like some are trying to act elitist for the sake of it when wrestling is for everybody. Basically, the official doesn't think there should be any "gatekeeping" of the medium when everyone starts watching it for pretty much the same reasons.
They fall in love with pro wrestling and want more and more of it.
This is why Aubrey is so tuned into the AEW Heels community program, because she wants to make wrestling feel like a more inclusive space for all comers. It's important to Edwards that people quit asking those same old questions over and over again like women are expected to pass some test before they're allowed to follow the biz.