AEW Revolution Exploding Deathmatch Closes On A Whimper, Not A Bang
Jon Moxley and Kenny Omega went to war, but the pyro team let them down.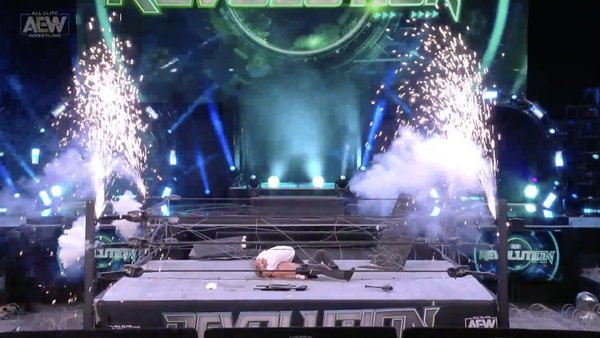 Jon Moxley and Eddie Kingston were let down by AEW's pyro team at the end of Revolution 2021.
A One Winged Angel onto a steel chair scored Kenny Omega the victory in his and Moxley's much-hyped exploding barbed wire deathmatch, thanks to interference from the Good Brothers. Karl Anderson and Doc Gallows hung around to continue the beatdown afterwards, with Moxley downed, bound, and cloaked in his own blood, all alone with the wolves.
The doomsday clock hit one minute. With the ring set to blow at zero, a sense of panic engulfed the arena. Omega and co. fled the scene, saving their own hides, when Eddie Kingston stomped out from the back to try and save Moxley, his former rival - and old friend.
As the clock hit single digits and King realised, grimly, that he couldn't get Moxley out in time, he sacrificed himself, Kingston lay down upon Jon's body to save him from the blast - but there wasn't one. Not really.
Sparks shot up from the corners, puffs of smoke danced briefly in the air, and that was it. That was the final explosion and the wrestlers, stuck in a hard spot, had no choice but to sell it like death.
A weak, weak ending to a tremendous, grisly deathmatch, though Moxley at least tried to cover for it afterwards. "Kenny Omega may be a tough son of a b*tch, but he can't make an exploding ring worth a sh*t," he said in an untelevised post-match promo. A noble effort at salvaging whatever he could from the angle, though the explosion's meek visual will never be deleted.
Create Content and Get Paid
---