AEW's Jade Cargill Discusses WWE Interest
The AEW TBS Champion also named her Mt. Rushmore of pro wrestling.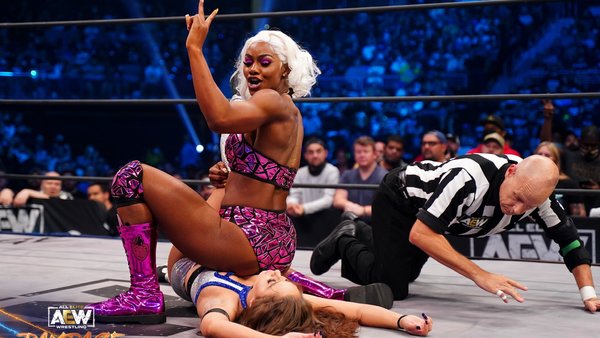 During a recent interview with Complex Unsanctioned, AEW TBS Champion Jade Cargill addressed, amongst other things, WWE interest in her.
As picked up on by Wrestling Inc., Cargill discussed how some fans would like to see her in WWE:
"I'm indifferent about it. I think AEW, we have more hardcore wrestling fans and I think WWE is more of the glitz and glamour, which I love that. Obviously, I'm about the glitz and glamour, and I could see how that would be an easier pill to swallow for fans than for me to be at such a hardcore wrestling base like AEW. But I like where I'm at. I made a choice, I stuck with my choice and I would never, ever, ever, ever get the debut that I got here at AEW if I had gone to WWE. Like, I would never."
Jade continued on:
"Could I have been more polished? Maybe, I can see that. But I would have never had a debut like that. I would have never been gotten the push I got. Maybe in like six years because they have such a cookie-cutter system and I would have never been emerged until someone was either push out or something happened. And that's how you have to look at things. I felt accepted. It was great that I had the opportunity to go there, but I also had the choice. I would have never got a better opportunity than me coming to AEW, so I think I'm very good where I'm at. I'm homegrown talent and I take a lot of pride in that."
It was November 2020 when the powerhouse Cargill first appeared in AEW, immediately butting heads with Cody Rhodes before she was paired up with Shaquille O'Neal to take on Cody and Red Velvet.
Since then, Jade has gone from strength to strength, amassing a 29-0 winning streak that has seen her become the inaugural AEW TBS Champion. In fact, her progress is pretty remarkable when you realise that the 29-year-old has only had 30 matches in her entire career, period; those being the 29 singles victory and a win in the aforementioned tag team bout. Along the way, there have been victories over major names like Thunder Rosa, Ruby Soho, Tay Conti, Anna Jay and 'Legit' Leyla Hirsch.
In addition to discussing AEW and WWE during this recent interview appearance, Cargill also listed her Mt. Rushmore of professional wrestling, naming Chyna, Jazz, The Rock and Bryan Danielson - and proclaiming both Chyna and Jazz as dream match opponents.

Create Content and Get Paid
---