AEW Star Hits Out At "Entitled" Wrestling Fans
This AEW star isn't happy with those fans who think they can book better than Tony Khan.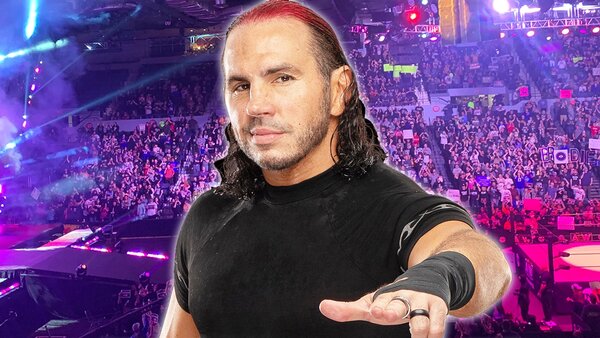 Matt Hardy has hit out at "entitled" wrestling fans who think that they can do a better job of booking AEW than Tony Khan can.
Speaking on his Extreme Life podcast (via eWrestlingNews.com), the veteran discussed those die-hard fans who are at times maybe a little too critical of the booking seen in All Elite Wrestling.
As Hardy explained:
"It's a really intriguing concept that so many fans that consider themselves die-hard fans, and this is no disrespect to them, but they are so caught up and captivated by the inner workings of the business and why things are happening. They feel like they can book better than the booker who actually runs the show. It's so crazy now. Wrestling fans feel so entitled, especially the more die-hard, smart fans that are online.
Matt continued on:
"They feel entitled, like, 'No, my opinion counts. You're wrong and I'm right'. That's very strange, but it is what it is. That's the world we live in today, so we just have to deal with it. But at the end of the day, Tony Khan is the guy flipping the bills. He makes the decisions, he's paying everybody, so it's his decision to make. If he makes it, I support him 100%."
Of course, the elephant in the room here, is one might argue that Tony Khan was nothing but an extremely wealthy die-hard wrestling fan before he decided to launch AEW...
While so much of the AEW product has been great throughout the promotion's relatively short lifespan, there have been certain instances where even the biggest of AEW fans have been left scratching their head at what's played out - or not played out - on the company's programming.
Much like any other wrestling company, AEW should not be above criticism, but there absolutely is a corner of online fandom that will react in a rather extreme way when they aren't happy with what they're seeing from the promotion.
As for Matt Hardy, he's been with AEW since March 2020. Currently, the iconic Hardy Boy finds himself as part of the Firm, with Matt's most recent in-ring outing being a six-man tag match pitting himself, Ethan Page and Isiah Kassidy against Angelico, Luther and Serpentico for this coming week's episode of AEW Dark: Elevation.