AEW Would Be INSANE Not To Push Ricky Starks & Powerhouse Hobbs Right Now
Team Taz's Powerhouse Hobbs & Ricky Starks are having a moment in AEW.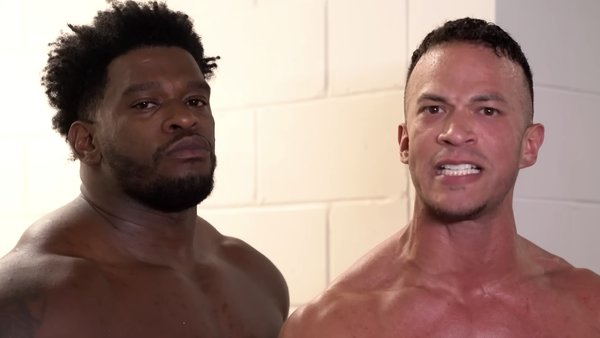 Powerhouse Hobbs and Ricky Starks fell short in their latest AEW World Tag Team Championship quest last week, losing the blistering three-way title fight that saw Keith Lee and Swerve Strickland take the straps from The Young Bucks.
It was a fast, fluid, all-action affair that succeeded not only in effectively shining a spotlight on each individual performer, but also in delivering a dense cluster of heart-in-mouth moments. One of those belonged to Starks, whose agonising near-fall on Strickland saw his face turn from ecstasy to agony when it was broken up at 2.99.
Starks was ultimately pinned by Strickland. The night belonged to Swerve in our Glory, who, despite the brevity of their AEW runs, have already emerged as a star act. It was impossible not to feel good for Lee in particular, given a miserable couple of years that have seen him dance with death through a particularly nasty COVID-19 battle, be rebranded as a 'Bearcat', and lose his job with the biggest promotion in the world. That last point has already proven itself a blessing in disguise, though. Lee, like Swerve, is finally being presented in a spotlight appropriate to his talents again.
But Swerve in our Glory's victory was crushing for Team Taz, who delivered a typically excellent post-match promo on AEW's Road to Fyter Fest week 2 video. Uploaded on Tuesday, it saw Starks and Hobbs abandon all traces of heeldom, accepting that they had been found wanting. "Where do we stand?", asked Ricky in the light of recent failures. "To me, it's a matter of respect. It's a matter of dignity. That's what we were fighting for."
Never more believable, Starks continued:-
"What is next for us? That I don't know. But I can tell you this... what I can guarantee you and promise you, and I put this on my mother's life, is that sometimes, you can work and bust your ass so much and you can prove - and try to prove - your greatness to other people but at the end of the day, it's about proving to yourself that you're great. It's about proving to yourself that you put in the work and if you did not get the job done, guess what? You can go to sleep and know that hey, I tried my best, and it just wasn't my time. That's the key there: it was not our time. And I am man enough, and he is man enough, to know that it was not our time."
Hobbs and Starks are making a habit of these great, great promos. Before Fyter Fest's first part, Ricky, in particular, looked like he was going to explode with passion in the latest of a growing line of fired-up diatribes through this, AEW's most organic popularity surge of 2022.
Everything about the Team Taz members screams stardom at the moment. From their excellent tag team synergy and mastery of their characters to the booming crowd reactions they now command whenever they step into an AEW arena, they are on the cusp. Hobbs and Starks are becoming hotter than the sun's surface. It's time to capitalise on that: this is the kind of climb from which megastars are born.
This latest promo forecasts a bright babyface future near the top of the world's second-largest wrestling promotion. Should it synergise with Strickland's eventual, expected turn on Lee, AEW HQ will need a money-printing press.