AEW Wrestler Claims He's "Creating New Fans"
One of AEW's midcard stars believes he and Orange Cassidy draw in new fans.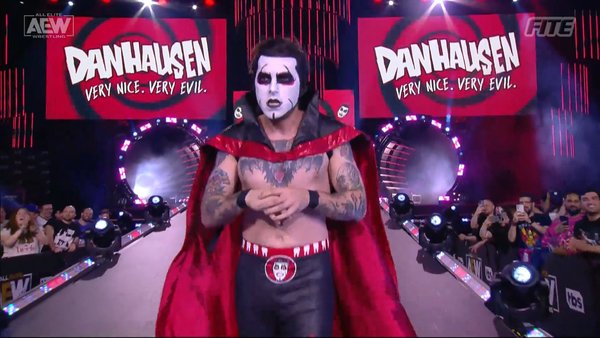 Danhausen reckons he and fellow AEW star Orange Cassidy are "creating new fans" because of their quirky approach to the industry.
Mr. 'Very Nice, Very Evil' told HardLore on YouTube that bringing in fresh eyes is "what you should be doing as a wrestler, but that "only a handful of people are actually doing that". He believes both Cassidy and himself are rare examples of workers who try to do something totally different to the norm.
That's their main strength, he thinks.
At the same time, Danhausen realises that he and Orange are the "go to" wrestlers for those complaining about things being "too goofy" for their tastes. The face-painted midcarder doesn't really worry about that though, because so many people come up to him at autograph signings and say they enjoy his out-there character.
That means more to Danhausen, because it lets him know he's connecting with those who might otherwise skip pro wrestling altogether; if he can draw some new folks in then they see top-tier technicians like Bryan Danielson or Claudio Castagnoli, they might stick.
Danhausen sees that as a major positive, and credited Cassidy for having the same appeal.