AEW Wrestler Deletes References To Company Amid Departure Rumours
More fuel to the fire on this wrestler's speculated departure from All Elite Wrestling.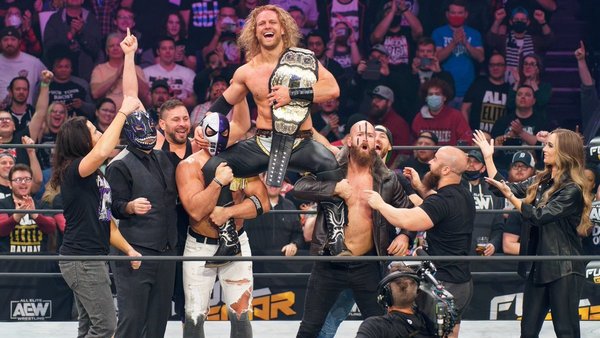 Speculation that Alan 'V' Angels had left All Elite Wrestling started brewing on Monday, when the Dark Order member tweeted that he was "Excited for what's next."
Confirmation of Angels being let go from the promotion had not emerged at the time of writing. However, another social media move made by the 24-year-old adds more fuel to the speculative fires.
As pointed out by Reddit user u/DKBetiza, Angels has not only blacked out his profile picture on Twitter, but also removed references to AEW from his bio. Previously, that section of his profile included "AEW wrestler." Now, there is nothing there but an email address for bookings.
Angels has worked 86 matches for All Elite Wrestling to date. Starting with a 98-second squash defeat to Lance Archer on 8 April 2020, his profile rose through a longer match with Kenny Omega later that month, drawing an exorbitant volume of bad faith criticism online. By May, Angels was inducted into the Dark Order - with whom he remained for the duration of his run.
The 24-year-old last wrestled for AEW on 11 June's Dark tapings, facing Daniel Garcia in a Pure rules bout. If he has departed AEW, he will be the second Dark Order member to do so in recent months, with Stu Grayson leaving following his contract's expiration in May.