AEW Wrestlers Pissed With Sammy Guevara & Andrade's Social Media Feud?
Guevara and El Idolo's disruptive flame war has not sat well with AEW wrestlers.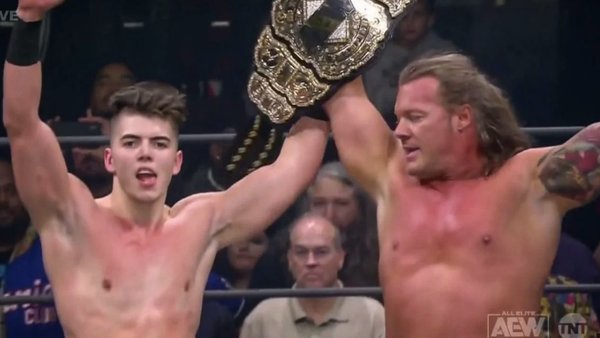 Nevermind the brawl that reportedly erupted between the two at last night's Dynamite - AEW wrestlers were already frustrated with Sammy Guevara and Andrade El Idolo before that.
Fightful Select reported prior to news of yesterday's fight breaking that AEW talent and staff had not heard whether or not the social media spat that engulfed Andrade and Guevara's timelines earlier this week was a work. Regardless, they weren't 100% sure.
One veteran wrestler told the outlet the following, saying that the duo effectively mentioning wrestling isn't real detracted for whatever story they might have been trying to tell:-
"When you get into mentioning that wrestling isn't real it defeats the purpose of whatever storyline you could be trying to work. They were talking about hitting each other hard and complaining, so if it's a work, it's a bad one. I'm sure they'll eventually have a match though, just because people are talking."
Another big name felt like the situation gave a poor impression of AEW's locker room, regardless of if the social media barbs were work or shoot. This left them feeling frustrated.
Guevara vs. El Idolo is, of course, AEW's second notable backstage fight in the past month, following on from the much-publicised Elite vs. CM Punk and Ace Steel scrap at All Out. Per Fightful, sources have indicated that the AEW locker room has felt a lot more cohesive since then. Chris Jericho, Jon Moxley, and Bryan Danielson hosting a talent meeting has been cited as a turning point in that regard, as the get-together helped calm nerves and get people on the same page again.
One source felt that Andrade and Sammy's situation was disrespectful to Jericho, Moxley, and Danielson's work to smooth things over. Keeping dirty laundry private is something AEW has emphasised to wrestlers in recent weeks, which obviously didn't happen with El Idolo and Guevara.
Andrade was sent home and pulled from a planned Rampage match after fighting with Guevara last night. Sammy, meanwhile, stayed on the show, teaming with Jericho in the main event.
Create Content and Get Paid
---