AEW's Adam Cole Gives His Thoughts On Pat McAfee's WWE WrestleMania 38 Performance
The Undisputed Elite man had plenty to say about his former rival.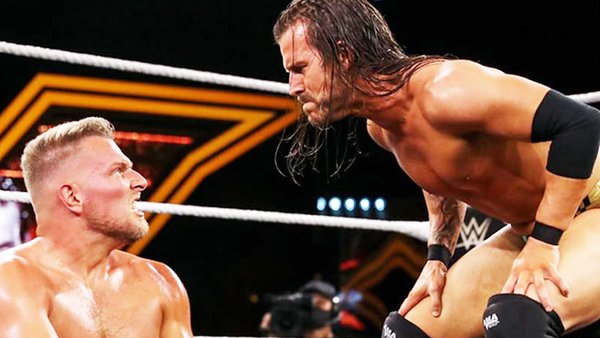 Speaking during a recent interview with Stephanie Chase (via Wrestling Inc.), AEW's Adam Cole has given his thoughts on Pat McAfee's WrestleMania 38 match against Theory.
Of course, Cole and McAfee butted heads in NXT, with the two facing off in singles action at TakeOver XXX before then being on opposing sides in the titular match at WarGames IV. As such, the Undisputed Elite man had plenty to say when quizzed on Pat's 'Mania performance.
"As a person, he's a dirtbag, [I] can't stand him. But if I will look objectively and talk about how much potential he has, Pat McAfee blows my mind. He's so athletically gifted. As far as the wrestling part, he's done great. Everyone knows he can talk for hours, and he's super compelling and interesting. Pat knocked it out of the park, he did an amazing, amazing job."
Continuing on, the former NXT Champion added:
"So, as far as the potential of where he could go and what he could do in the pro wrestling industry, I think he could go as far as he wants to. Seriously, to me it was one of the highlights of the entire weekend was Pat's match. He's a terrible person, but a lot of potential."
What the future holds for the in-ring career of Pat McAfee remains to be seen, but he's shown a ridiculous amongst of promise and ability in the four matches he's had so far under the WWE banner.
In addition to the Cole match, the WarGames contest and his WrestleMania 38 bout against Theory, McAfee also got to face off against Vince McMahon immediately after that Theory match - losing to VKM in a painful four-minute affair.
As for Cole himself, he's currently in the midst of Undisputed Elite shenanigans, having just come off the back of unsuccessfully challenging for the AEW World Championship held by 'Hangman' Adam Page.